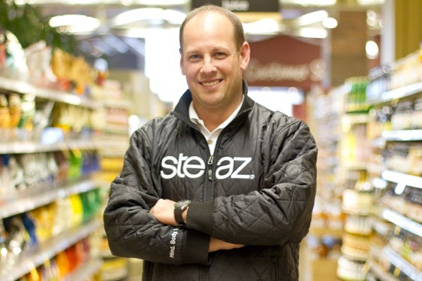 Jay Garnett, Steaz executive chairman, challenges other energy drink makers to put their caffeine numbers on the label. Source: Steaz.
In light of the recent discussion about excess, dangerous and unreported caffeine levels in energy drinks and other products, Steaz, an organic/all-natural energy drink supplier, challenged its competitors to put caffeine levels on their labels to help consumers make informed choices about the products they buy. In fact, many other countries require the labeling of caffeine content on energy drinks and other beverages.
"There is a broad range of caffeine levels and sources in everything caffeinated, from chocolate to coffee to energy beverages," says Steaz Co-founder Steven Kessler.  "We promote natural sources of caffeine and nutrition and ask consumers to educate themselves about what they are drinking. Steaz encourages all beverage manufacturers to make it easy for them to do so with open and accurate product labeling."
The Mayo Clinic suggests that a moderate dose of caffeine, up to 300mg, isn't harmful for a healthy adult. Caffeine is known to increase alertness and the ability to concentrate. However, for individuals with high blood pressure, heart disease and other related health issues, doctors recommend moderation or very low doses of caffeine—or no caffeine at all. Therefore, knowing how much caffeine is in a beverage or food item can be very important.
FE interviewed Jay Garnett, Steaz executive chairman, to understand this challenge in more detail.
FE: You produce sparkling green teas and energy drinks. Do your teas have caffeine? If so, how much?
Jay Garnett : Steaz beverages are green tea based, so there are about 15mg of caffeine per beverage for iced teas and sparking teas.
FE: Your energy drinks actually list 100mg/12 oz. on the can. FDA limits the amount of caffeine that can be added to soda to 48mg/8 oz. Since an energy drink is not a soda, the FDA ruling doesn't apply to energy drinks, correct?
JG: That is correct. It's important to note that the 100mg in a Steaz Energy drink is very similar to a regular size cup of coffee.
FE: The source of caffeine in your energy drinks is guarana berries, correct? How does this source compare with coffee?
JG: There are actually several sources of caffeine in our energy drinks. Organic green tea extract, yerba mate and guarana berries are the sources of caffeine. These are some of nature's most balanced stimulants and, unlike coffee, provide a balanced, focused "buzz," rather than a jittery, nervous spike in energy.
Coffee drinkers often complain about the "crash" about an hour to two after consuming a cup of coffee, but Steaz provides a more sustainable buzz without a crash because of our balanced sources of caffeine.
FE: You list the amount of caffeine on the container of your energy drinks when it's not required. Do your competitors do the same?
JG: At Steaz, we've always prided ourselves on not just being responsible by labeling our caffeine content, but also by providing a responsible amount of caffeine. As we've discussed, our energy drinks contain around the same amount of caffeine as a cup of coffee, which is safe and actually beneficial for most adults.
Many other energy drink companies don't label their caffeine, and we encourage them to do so—even though FDA doesn't require it yet; it just provides a level of transparency for consumers to know exactly what they're putting in their bodies.
FE: Should FDA put some caffeine limits on energy drinks? 
JG: We know FDA is going to be taking a closer look at product labeling, specifically on energy drinks, in the near future. Senators Richard Blumenthal and Dick Durbin have recently urged FDA to do so, and it looks like FDA is taking the recent reports of death from caffeine overdose very seriously.
As far as caffeine limits right now, we believe that self-regulation is paramount in keeping customers safe and informed, which is why Steaz labels its caffeine content and doesn't overload its drinks with unsafe levels of caffeine.
FE: What can we do to limit dangerous doses of caffeine to kids who don't understand the medical issues?
JG: As we've touched on this before, the best way to do this is responsibility on the part of the beverage manufacturer. At Steaz, it's very comforting knowing we manufacture products that provide safe levels of caffeine and all-natural ingredients, and we've done so of our own accord—it didn't take FDA regulations or pressure from Congressmen—we've always done it this way.
The best thing Steaz can do to protect kids from caffeine overdoses is to continue doing what we've always done—make all-natural, organic beverages with safe and responsible levels of caffeine.
Further, we don't market our energy drinks to children. Our labeling provides all the information parents need to make an informed decision about whether or not our energy drink is appropriate for their child.
We're encouraging other energy drink and beverage manufacturers to state all the ingredients on their labels—including caffeine. Let the consumer evaluate the product and make an informed buying decision.
After all, there's nothing wrong with a hyper-caffeinated beverage if that's what the consumer actually wants. But the consumer should know before consuming the drink. If a consumer thinks he or she is drinking a soda, but it's a hyper-caffeinated beverage, we don't feel it's appropriate to leave the caffeine content off the label.
FE:  You have some distribution in Canada. Does the Canadian government require putting the caffeine content on the label of energy drinks?
JG: Yes. Canada actually does have that regulation. We're in 14 countries around the world; a lot of the other countries have very strict caffeine regulations. We started in the US, and we've always labeled the caffeine content. So when we expanded our distribution to other countries, labeling the caffeine content wasn't even a thought because the information was already there.
FE: On another subject, there have been complaints in the past about the use of sodium benzoate as a preservative in certain sodas and other juices. Heat and acids in the drink can cause sodium benzoate to break down, leaving benzene in the drink. Benzene is a known carcinogen. From your nutritional information, it looks like you don't use preservatives. What keeps Steaz teas fresh? What is their shelf life?
JG: Steaz beverages have a two-year shelf life, and a combination of pasteurization and acidity [pH] to control microbiological activity.
FE: What else is or is not in Steaz?
JG: It's of course very important what goes into our Steaz beverages—all-natural, organic, vegan, USDA Fair Trade Certified-ingredients—but we also have put great emphasis on our work outside of manufacturing beverages as well.
In 2013, Steaz is celebrating 10 years in business by unveiling new packaging and continuing its triple bottom-line business practices, which focus on the core values of people, planet and profits for its Fair Trade farmers. Steaz will continue to donate a percentage of every Steaz beverage purchased at Whole Foods to the Whole Planet Foundation.
As a beverage industry leader, Steaz has raised the bar in the area of environmental impact standards and uses 100 percent recyclable packaging and offsets its entire carbon footprint every year to ensure it is investing in alternative energy sources and sustainability projects across the country.
About Jay Garnett:
In 2007, Jay Garnett invested in the Healthy Beverage Company, creators of Steaz, and was promptly named chairman of the board. Three years later, he was invited to take a more strategic advisory role as executive chairman to support both Steaz management and its board of directors. Under his leadership, Steaz has advanced its sustainability and social responsibility practices, won numerous awards and became the top selling energy drink in the natural foods industry.
An industry veteran, Garnett was the first international market owner of Seattle's Best Coffee. His success with SBC ultimately attracted the attention of one the world's most respected brands, and in 2007, he sold the Canadian distribution rights to Starbucks. Garnett now focuses his attention on applying his integrated brand management expertise to other leading beverage companies such as Steaz and Icon Fine Wine & Spirits