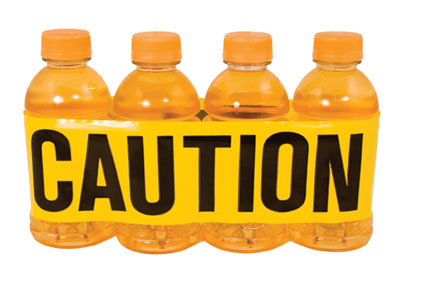 Like alcohol, sugar, fat and salt, caffeine used in moderation is relatively safe and has benefits as well. 
While FDA doesn't consider caffeine a nutrient, it does consider it an ingredient, and therefore, its presence has to be indicated on a food or beverage label. However, as an ingredient, the actual quantity of caffeine in a product doesn't have to be listed on the label, although several processors do list quantities. For example, Diet Coke lists caffeine as 46mg per 12 oz. serving on the label.
FDA's Center for Food Safety and Applied Nutrition (CFSAN)
released a report
where it pulled specific data from its Adverse Event Reporting System (CAERS) using search terms for "Five Hour," "Monster" and "Rock Star" and their variations. Here are the results for reporting dates  January 1, 2004 through October 23, 2012:
13 deaths attributed to 5-Hour Energy
5 deaths attributed to Monster
0 deaths attributed to Rock Star.
The report reveals that whether or not deaths were reported, many doctor and ER visits were listed. What the report does not reveal, according to FDA, is that only a small fraction of adverse events associated with any specific product is reported. On the other hand, it's possible the same individual could be reported twice because the consumer and the consumer's healthcare provider may have both submitted reports. In addition, the report doesn't necessarily cover whether a consumer's pre-existing condition (e.g., high blood pressure, heart arrhythmia or heart disease) may have contributed to an ER visit or death. 
CAERS includes voluntary reports for cosmetics and conventional foods, and both voluntary and mandatory reports for dietary supplements. Mandatory reports are those required by the Dietary Supplement and Nonprescription Consumer Protection Act. Specifically, dietary supplement manufacturers, packers and distributors must notify FDA if they receive reports about serious adverse events in connection with the use of their products. 
The Center for Science in the Public Interest (CSPI) has been advising consumers not to use 5-Hour Energy—at least until FDA gets to the bottom of the heart attacks, convulsions and deaths that have been reported in connection with the product, according to Mike Jacobson, CSPI executive director. 
Overdosing on caffeine is also of concern in Washington DC. "The amount of caffeine and other additives in many of these energy drinks is way in excess of what is healthy for children and adolescents," says US Senator Richard Blumenthal. "As a result of these concerns, Senator Durbin and I have urged the FDA to investigate these products. Stronger oversight and awareness through warnings and other possible measures are clearly needed."
But how much and how far should warnings and regulations go? CSPI's Jacobson sent a letter to CFSAN/FDA, alerting the agency to what he believes "might be the beginning of a new craze in which food manufacturers add caffeine (as a pure chemical or as a component of coffee) to a wide range of products. 
"Some of the products appear to violate the Food and Drug Administration's determination (21 CFR 182.1180) that caffeine is generally recognized as safe only in cola-type beverages at concentrations of 0.02 percent or less (about 48mg/8 fl. oz.)," says Jacobson.
Kraft Foods Global is marketing caffeinated versions of its MiO "water enhancer," a product packaged in a squirt bottle, appealing to children. Each squirt contains 60mg of added caffeine—the entire bottle has 18 servings (total of 1,080mg caffeine/bottle).
Jelly Belly Candy company markets "Extreme Sports Beans;" 1-ounce packet contains 50mg of added caffeine.
PepsiCo's Frito-Lay division is expected to market Cracker Jack'D with 70mg caffeine.
Wired Waffles markets waffles at 200mg caffeine per waffle and Wired All-Natural Caffeinated Maple Syrup at 168mg caffeine/2-tablespoon serving.
Energy Gummi Bears contain 32mg caffeine from guarana per ounce.
Froosh Energy Mints (100mg caffeine/mint).
ChocoMallows chocolate-marshmallow squares (100mg caffeine/one-half oz. square.
"Clearly, companies large and small have incorporated caffeine into a range of products that traditionally have not contained caffeine," says Jacobson. "Whatever the source [of caffeine], the proliferation of caffeinated foods and beverages could lead to troublesome or serious health problems for children and adults who consume these products—especially when they consume multiple products over the day."
On the same day Jacobson sent his letter to FDA, FDA released a document on its website, entitled "Energy 'Drinks' and Supplements: Investigations of Adverse Event Reports." In it, FDA reports the continuing investigation of illnesses, injuries and deaths of people who took products marketed as "energy drinks" or "energy shots." "The existence of an adverse event report does not necessarily mean that the product identified in the report actually caused the adverse event," says the FDA document.
According to FDA, "A food additive cannot be used in a conventional food unless it has been approved for that use by FDA. However, substances that are generally recognized as safe (GRAS) by qualified experts are not considered to be food additives, and can therefore be added to conventional foods without pre-approval from FDA." 
While FDA may not quickly rewrite guidances or regulations, consumers will need to become educated about the responsible use of caffeine.