New Products
Technology Sourcebook
Pipeline mixer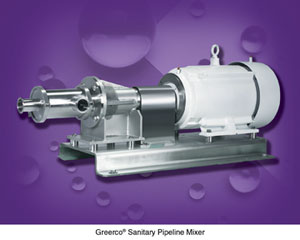 The Greerco pipeline mixer provides continuous high-speed, high-shear processing for applications involving homogenization, mixing, dispersion and emulsion such as creams, resins, solvents and sauces; a skewed turbine/stator unit operates at tight tolerances to produce high-shear axial mixing. With pumping capacities from 10 to 1,300gpm, the mixer features 316 stainless steel construction and single mechanical seals. Other options and sanitary models are available.
Chemineer, Inc.; 800-643-0641; www.chemineer.com


I want to hear from you. Tell me how we can improve.