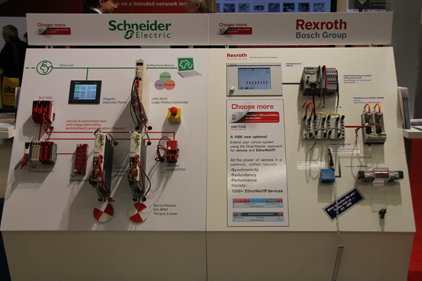 sercos international (SI) will present new safety solutions and innovative technologies during the Hanover Fair from April 8-12. The organization will also present a conceptual approach to integrating machinery in manufacturing that reflects the slogan, "Fewer cables, less complexity, easier machine integration."
Developed in cooperation with ODVA and the OPC Foundation, SI says the approach involves a common infrastructure that allows sercos telegrams, CIP messages and TCP/IP telegrams to run on a single cable. The combined infrastructure allows mechanical engineers and users to reduce costs and complexities involved in machine integration while continuing to use preferred suppliers and automation devices.
SI will also offer a tool for developing, testing and diagnosing errors in sercos networks. That includes sercos Easy Slave, sercos Monitor and sercos MultiSlave Emulator, originally introduced at the 2012 SPS/IPC/Drives exhibition in Nuremberg, Germany.
The PC-based development tool is designed for highly diverse applications and enables mechanical engineers, controller manufacturers and system integrators to emulate a sercos network with multiple slave devices. It can be used during the development and testing of various sercos network configurations, which can ultimately be reproduced for troubleshooting and diagnosis at a company's in-house laboratory with minimum hardware expenditure.