Theakston's Brewery in the United Kingdom has relied on traditional brewing methods in crafting its range of beers for 136 years, but this same commitment toward some of its material handling operations threatened to squelch increasing product demand.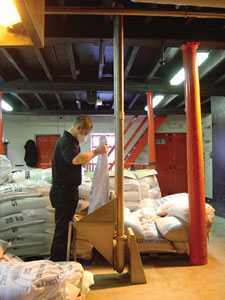 Every week, from the inception of the brewery until the start of the new millennium, Theakston's received a delivery of 280 50kg sacks of malt directly to the brew house door. Each sack, by tradition, was manually hoisted to the roof space and prepared for use. "The manual hoist, which took two men to operate, was used to transfer enough of the sacks to a third floor in the roof space where they were stored ready to be opened and discharged into the grist mill to start the brewing process," says Head Brewer Bill Wilson.
Several years ago, Theakston's malt supplier changed all deliveries to 25kg sacks. This meant 560 sacks had to be manually hoisted to the roof space each week. Given the time it took to unload each sack, barrow it to the hoist area and hoist it, the operation was effectively taking a full man-week to meet the requirements of three brews a day on three days per week, explains Wilson. "In addition, the unloading process tied up the delivery truck for an entire morning," Wilson says.
To halt the malt material handling crisis, Theakston's started a new tradition: enlisting the use of an Aero-Mechanical conveyor from Spiroflow Systems. The Aero-Mechanical conveyor (AMC) Theakston's installed features 80mm-diameter, nine-meter long conveying tubes. The device, which features an integral sack tip hopper, has replaced the hoist. The correct amount of malt required for each of the nine weekly brews is now mechanically conveyed to the top floor and charged into the grist mill buffer hopper in about an hour's time.
"Now sacks can be emptied at ground floor level at a rate commensurate with the performance of the grist mill," says Wilson. "What we like about the Spiroflow Aero-Mechanical conveyor is what's put in at the bottom comes out at the top; there is no loss in the conveyor—essential to ensure each brew has the correct amount of each ingredient," says Wilson.
The conveyor was installed by Theakston's own engineers. Wilson reports an annual check of the rope tension is the only maintenance required.
The 25kg sacks are delivered on one ton pallets, then unloaded by a forklift truck in less than half an hour and stored in a new warehouse area across the yard from the brew house. The sacks are taken by electric pallet truck to the AMC as required prior to each brewing.
For more information:
 Carolynn Sarver, 704-246-0951, csarver@spiroflowsystems.com