New Products
Technology Sourcebook
Cans/bottles pallet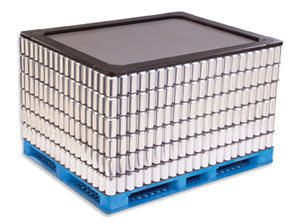 Offering a lock-together design, the ORBIS NovaLock all-plastic, 44-in. X 56-in. pallet conveys plastic and metal cans and bottles. Featuring double-wall construction, it resists impacts from forklift tines. If the pallet deck and stringer bottom separate during usage, the pallet snaps back together under the weight of the load without manual intervention. The pallet is dimensionally consistent and compatible with many palletizers, depalletizers, automatic strapping/banding systems and conveyers.
ORBIS Corporation; www.orbiscorporation.com


I want to hear from you. Tell me how we can improve.