A new, ultra-high performance lidding film able to double the shelf life of premium chilled ready meals is available from KM Packaging Services Ltd., a provider of heat sealable lidding films used on a wide range of premade food trays, tubs and pots for ambient, frozen or chilled prepared convenience foods.
The polyester-based film laminate not only fully achieves performance requirements and seal security, it also extends product shelf life to 28 days, twice that of many chilled ready meals currently available. The lidding material is suitable for sealing to externally lacquered aluminum foil trays and can withstand rigorous retort manufacturing processes while maintaining reliable seal integrity and peelability for ease of consumer preparation.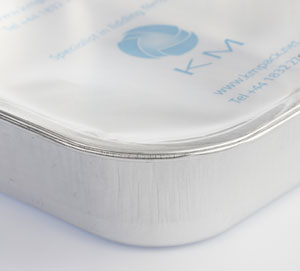 KM Packaging Solutions' new polyester-based film laminate is used as a lidding film for premium chilled ready meals to extend product shelf life to 28 days. Source: KM Packaging Services.
Charles Smithson, KM Packaging managing director, says premium chilled ready meals are quite a challenge for both manufacturers and retailers. "The product not only has to achieve technical excellence, its visual appeal must justify its premium pricing," says Smithson. The meals are bought by a more discerning consumer and are intended to pass for home-made or purchased as a special treat.  v
For more information:
 Graham Holding, 44 (01) 832 274 898, contact@kmpack.co.uk