New Products
Technology Sourcebook
Hydropneumatic vessel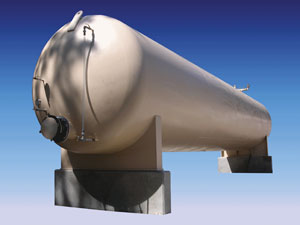 Made of ASTM A516 Grade 70 carbon steel, the Ross Engineering hydropneumatic vessel has interior surfaces that are blasted and lined for potable water storage. The 15,000-gal. tank is designed, fabricated and stamped for 150 psig internal pressure in accordance with ASME Section VIII, Div. 1 latest edition. Lifting lugs, saddles, an elliptical manway and high-pressure couplings come with the vessel. Carbon steel, stainless steel, aluminum, titanium, Monel, Hastelloy and Inconel materials are available. Options include vacuum design, agitators and controls, heating/cooling jacket or coils, vents, overflow pipes, sheathing, insulation, passivation, electropolishing, special coatings, tank liners and non-destructive testing.
Ross Engineering, Inc.; 800-524-7677


I want to hear from you. Tell me how we can improve.