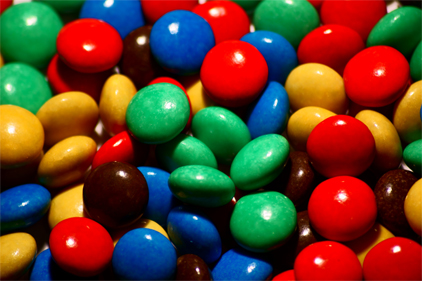 According to the Confectionery Trends Market Assessment from PMMI, The Association for Packaging and Processing Technologies (September 2013), US confectionery sales totaled $22.8 billion in 2012. With global demand for sweets rising, especially among middle-class consumers in emerging economies, confectionery manufacturers must increase output through technology that advances efficiency, precision and speed.
We asked Jorge Izquierdo, PMMI's vice president ofmarket development, to shed some light on the trends and technologies that will continue to drive growth in this industry.
FE: Which confectionery products are hitting consumers' sweet spot?
JI: In the US, chocolate candy remains a big hit with consumers— with 55 percent of the total confectionery market in 2012, and 3.8 percent growth over 2011.  Although sales of non-chocolate candy, such as fruit sweets and hard candy only represent half that volume, sales grew about twice as much—6.4 percent.
FE: What packaging trends did PMMI uncover in this study?
JI: We saw strong growth in flexible packaging, which has some significant benefits, including a lighter weight that enhances sustainability efforts. Formats such as stand-up pouches show how flexible packaging can stand out on store shelves. To enhance the convenience of these pouches by mass-market confectioners, flow-pack fin seals and zippers are increasingly being added to flexible pack styles. However, manufacturers of premium chocolates and candies still generally favor high-end rigid packaging for their gourmet products, especially if those products are presented as gifts.
FE: What other major trends are influencing the confectionery industry?
JI: As the confectionery industry continues to expand, especially in emerging markets, having international suppliers is becoming increasingly important. Manufacturers are also concerned with upcoming changes in the regulatory environment stemming from legislation like the Food Safety Modernization Act (FSMA).
From the consumer side, media coverage of obesity as a national health crisis has resulted in a growing number of calorie-counting shoppers, and in response, confectionery manufacturers are shifting calorie and nutrition information to the front of packaging and offering smaller portions. The zippers mentioned earlier give consumers a way to limit their snack intake without sacrificing product freshness.
FE: As a result of these trends, what new solutions or equipment modifications are manufacturers demanding from their suppliers?
JI: As demand for sweets continues to grow, manufacturers must focus on increasing output and speed. Improved machine designs with new features and enhanced capabilities will help them achieve this. Machinery that maximizes precision is one way to increase efficiency. Examples include highly accurate chocolate spray applicators and machines that can place more product per square foot during the chocolate enrobing process. These technologies are expected to be in high demand.
FE: How are investments toward equipment at the moment and are they expected to increase?
JI: Based on our findings, we expect equipment investments to increase by up to 5 percent annually for the next three years. However, the demand for different types of equipment varies considerably. For example, larger companies are focusing on building new production lines or even new facilities, but smaller manufacturers may want to look to flexible equipment or consider updating a line to accommodate rapid growth over the next few years.
For more information about PMMI's 2014 PACK EXPO International trade show (November 2–5, 2014; McCormick Place, Chicago), visit www.packexpo.com.