Resealability is a common function for caps and closures on plastic bottles and other types of beverage containers, but for metal cans, resealability has remained problematic, according to Andreas Kleiner, founder and CEO of can2close GmbH.
"Since the 1960s many inventors have attempted to solve the riddle of the resealable can, but even the most promising innovations were too technically complex or were not economically viable to integrate into internationally standardized filling processes," Kleiner says. (The last significant change to the soda can was the stay-on tab, launched in 1974 as a replacement for the ring-pull and a means of reducing litter and the risk of injury.)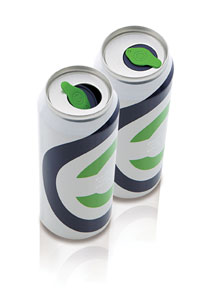 The standard stay-on tab for beverage cans will be challenged by can2close's  patent-pending innovation  that allows consumers to open and reseal the can for product freshness, easy transport and the reduced risk of spilling and contamination. Source: can2close.
However, can2close has developed what it calls an elegant, no-compromise, resealable closure solution for beverage cans, based on a plastic mechanism the company developed. The resealable closure allows the consumer to portion canned beverages, allowing for easy can transport after the first opening. The resealable end also prohibits contaminants from entering the can, reduces the risk of spilling and keeps drinks fresher.
The plastic mechanism can be opened with one hand and is fingernail friendly. The larger opening releases more aroma and flavor—an important consideration for the beer industry—and accommodates a straw. The resealable feature's shape and color are customizable, offering branding opportunities. Kleiner says filling companies can easily integrate the resealable end into established filling processes.
The innovation earned a Silver award in the prototype category of the "Cans of the Year Award" in Tokyo in September 2012, and was nominated for the German Packaging Award in August 2013. It was a finalist in the "Best Closures" category of the Beverage Innovation Awards at Drinktec in Munich this year. The leadership team at can2close, a company founded and incorporated in 2012, is working to develop its patent-pending concept into a market-ready offering. v
For more information:
can2close, 49 (89) 41 61 77 8 63, www.can2close.com