New Products
Technology Sourcebook
Handheld tablet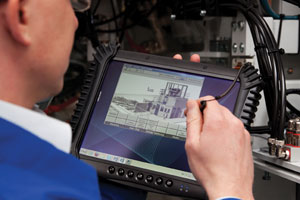 The HaverService Pad industrial-grade handheld tablet offers equipment diagnostics and troubleshooting for businesses that use automated equipment to fill dry bulk materials. Linked to every component within a machine through a wireless connection, the tablet provides the appropriate analytics when a part isn't working properly and allows an operator to get live feedback from a Haver service team member. It also can be used to schedule reminders for routine maintenance checkups and place electronic orders for parts.
Haver Filling Systems, Inc.; 770-760-1130; www.haverusa.com


I want to hear from you. Tell me how we can improve.