New Products
Dry Processing
Dry Processing Technology
Vacuum conveyor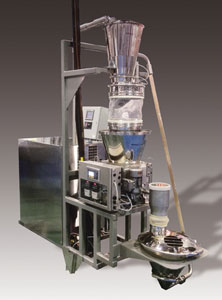 The MoveMaster Vac vacuum conveying system from Schenck Process Group is suited to batch dilute phase conveying, direct loss-in-weight feeder refill and integrated volumetric feeding and conveying. It is designed for sanitary applications and can be used for conveying corrosive and hazardous materials. Key components include modularly designed pickup and reception points with dust-proof seals and quick-release clamps to simplify cleaning. The conveyor handles powders, pellets and additives at rates up to 4,400 lb./hr. and temperatures up to 110°F. It is offered in 10-, 35- or 80-liter capacity sizes.
Schenck Process Group;
800-558-0184; www.schenckprocess.com


I want to hear from you. Tell me how we can improve.