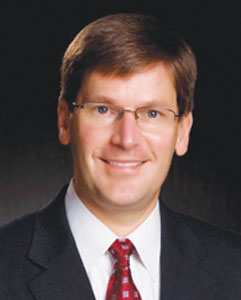 Anthony Thompson
Krispy Kreme Doughnuts, Inc.
announced the appointment of
Anthony Thompson
as president and CEO.
Ready Pac welcomed four new members to its team. Sally Erickson joined the company as CFO; Tim Clark as chief human resources officer; Peter Laport as chief supply chain officer; and Michael Murray as chief general counsel.
tna announced the acquisition of FOODesign. FOODesign will retain its brand and become integrated into the tna group.
Trelleborg acquired the Superlas Group through its business area Trelleborg Industrial Solutions.
Kason Corporation, a manufacturer of circular fluid bed dryers, coolers and moisturizers, appointed James Schak as product manager of fluid bed processing equipment.
NSF International promoted two members of its leadership team to senior vice president. Tom Chestnut is now senior vice president of the global food division, and Chandana Kathuria was promoted to senior vice president and CIO/Lean program leader. In addition, Greg Brown was named global managing director of seafood safety and quality programs.
Corey Rosenbusch was named president and CEO of the Global Cold Chain Alliance.
The American Meat Science Association named Fidel Toldrá as the recipient of the 2014 AMSA Meat Processing Award.
The American Beverage Association announced the promotion of Genevieve Gent to the position of senior vice president of government affairs.
The Coffee Bean & Tea Leaf announced the appointment of Karen Cate as CEO and named Jeff Schroeder as vice president of operations.
Ali Group North America, announced the appointment of Frank Chandler to the position of president of Belshaw Adamatic Bakery Group.
Tom Poe was named chairman of the International Association of Refrigerated Warehouses (IARW) Board of Directors. Angelo Antoci was elected vice chairman while Eben James was named treasurer. At-large members elected included Doug Harrison, Andy Janson, Dan Coury Jr. and Randy Scarpero.
Frank Plant was announced as the chairman of the World Food Logistics Organization (WFLO) Board of Governors. Greg Brandt was named vice chairman and Fabio Fonseca will be treasurer of the board. New board members included Neal Rider, Dan Kaplan, Hans Kroes and Mike Pokel. Don Dick, Arne Martinsen and Kirk Robertson were re-elected to 3-year terms.
The Food Market Institute has appointed Stephanie Kay Barnes as regulatory counsel.