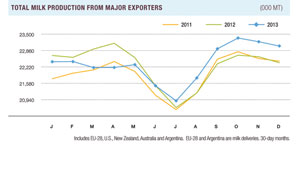 Total milk production from major exporters has increased since 2011, but demand continues to grow. Source: USDA, EuroStat, Dairy Australia, DCANZ and Argentina Ministry of Culture.
Fueled in large part by rising consumption in Asia, the global dairy industry is expanding at a rate that will increase both opportunities and challenges for producers. For instance, Chinese milk consumption has grown by nearly 13 percent annually for the past decade, according to the Institute for Agricultural Trade Policy, while the 2012 UN "Milk Availability" report cited rapid growth in dairy product consumption in the developing world and the potential for significant additional expansion in the future.
However, according to the same report, "increasing consumption in developing countries has been accompanied by a major expansion of production in several developing countries, significantly outpacing production growth in the developed country group."
Given USDA's findings that US per capita milk consumption has declined about 30 percent since 1970, a burgeoning global market for dairy is a boon to producers that must look beyond the domestic market to drive profits. FDA is preparing the regulatory framework to facilitate exports to China and, in January, announced it would establish a list of milk and milk products manufacturers with an interest in exporting to China.
In a global market that will see increased supply when European dairy quotas end in 2015, quality, safety and flexibility will become key differentiators of best-in-class operations.
A focus on quality, safety and flexibility must begin with plant management and operator-level employees, yet a recent Gallup poll found 50 percent of US workers are not actively engaged, and a further 20 percent are actively disengaged in their jobs, resulting in the loss of as much as $550 billion in economic activity each year.
To support dairy industry professionals, the International Dairy Foods Association launched its NextGEN Dairy Network, a program designed to help up-and-coming dairy industry professionals advance their careers. Open to professionals with less than 15 years of industry experience, the initiative will use online forums, networking and targeted training sessions to provide access to the tools and expertise necessary for these professionals to succeed.
"The NextGEN Dairy Network enables industry professionals at all levels to grow, collaborate, network, solve problems and develop the skills necessary to hold leadership positions in their companies, as well as in IDFA and its constituent organizations," says Clay Hough, IDFA senior group vice president and general counsel.
Participants in the program will learn how peers and established industry leaders handle challenges, participate in special activities to help build the necessary skills for leadership in the dairy industry of the future and gain a more comprehensive understanding of emerging industry topics and issues.
Eligible industry professionals can join the network for free at www.idfa.org/nextgen.
IDFA will offer a Dairy Plant Food Safety workshop on September 16 and 18 in Denver, CO. Dairy industry professionals designed the workshop to help dairy facilities improve pathogen-control practices during pathogen environmental monitoring (PEM), sanitation and sanitary design. The workshop is open to all employees involved in a pathogen-control program, from plant managers and production supervisors to sanitation, engineering and maintenance personnel.
The workshops will include hands-on exercises and training by food safety leaders from leading dairy industry companies. Topics will include PEM, best practices for GMPs, an introduction to sanitation microbiology and sanitary design, and sanitation standard operating procedures (SSOPs). Small group sessions will afford attendees a chance to practice swabbing techniques and develop PEM plans and SSOPs. For more information, visit IDFA.org.