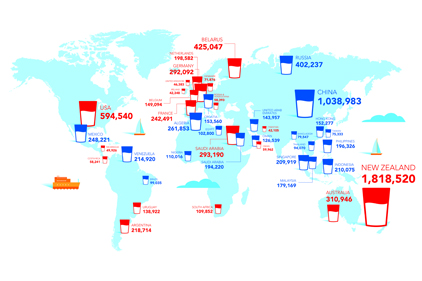 The global demand for milk is expected to surge by 36 percent in the next decade, overtaking supply which will require producers in developed and emerging dairy markets to take on a balancing act to ensure sustainable success, according to the 7th Dairy Index released by Tetra Pak.
The report highlights opportunities and challenges posed by rising global demand in the dairy industry. Specifically, demand is increasing because of population growth as well as the urbanization and thriving economies in parts of Africa, Asia and Latin America, the index reported.
Tetra Pak says increased demand in emerging markets is unlikely to be fulfilled by locally produced raw milk, and developed dairy markets with a milk surplus will be challenged by competing for exports and falling domestic consumption.
"The predicted surge in global demand offers a huge opportunity for dairy companies in developed markets to export powder and ambient liquid dairy products to growing economies," said Dennis Jönsson, president and CEO of Tetra Pak Group. "However, to ensure long-term success, these producers need to balance the 'quick wins' of export against the requirement to continue to grow their domestic markets."
Jönsson added, "meanwhile, dairy companies in import markets must overcome the challenge of securing a sustainable, high quality milk supply while keeping pace with growing demand. Markets such as China and Saudi Arabia are doing so in multiple ways: increasing investment in domestic dairy farming, partnering with well-established foreign companies, and diversifying their offer with value-added products. Fundamentally, these are measures that will help to achieve the vital balancing act of shoring up the future of a sustainable dairy industry."
More on the Tetra Pak Dairy Index can be found here.