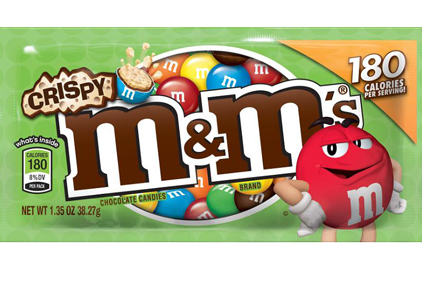 After a 10-year hiatus, Mars Chocolate North America has decided to bring back M&M's Crispy Milk Chocolate Candies, a favorite for some who were never ready to say goodbye.
Mars credits the candy's return to the "unwavering loyalty" of consumers who utilized all forms of social media and communications to get the company to hear their pleas in what Mars said was a "decade of phone calls, petitions and Facebook posts."
The crispy treats will hit store shelves nationwide in January of 2015.
The candy features a crispy center covered in chocolate and enclosed in the signature M&M's candy shell. Mars said the return of crispy marks the biggest M&M's brand launch since the introductions of the pretzel variety in 2010.
"When M&M's fans talk, we listen. And consumers have made it clear that M&M's Crispy are so irresistible, we had to bring them back," said Seth Klugherz, senior director, M&M's Chocolate Candies. "We're sure existing fans will be thrilled to see M&M's Crispy back in stores coast to coast, but we're just as excited to introduce this delicious product to a new generation of chocolate lovers."