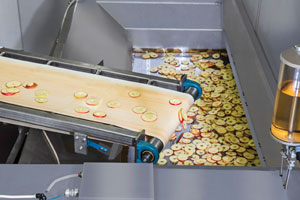 Bühler Aeroglide air dryer capable of processing 1,200 pounds of apples per hour turns the fruits of Martin's Family Fruit Farm's labor into a consistently dried, healthy snack. Source: Bühler Aeroglide.
When Martin's Family Fruit Farm decided to turn the fruit of its labor into a snack, Kevin Martin drove from Ontario to North Carolina with boxes of apples in the back of his truck. He dreamed of developing a product from the orchards on his family's 700-acre farm, and he wanted Bühler Aeroglide's drying expertise to help bring the idea to market.
One of the largest growers, packers and shippers in Canada, the Martin family business has traditionally harvested a variety of apples, but the idea of developing an apple snack was new. Martin envisioned a healthy snack with the crunchy texture of a potato chip, free of the preservatives and added sugars commonly found in many snack food products. Plus, he wanted to use an air drying process to remove as much moisture as possible to create a product with the healthy taste of a natural apple.
"We couldn't improve on nature, but we wanted to package what nature has given us in a healthy way," says Martin. "It had to taste as fresh as the handpicked apples from our orchards." Martin knew the color and texture he wanted to achieve, but he needed to define the parameters for drying. He also needed processing technology that would bring the product to fruition.
With pilot scale lab configurations that include dual impingement, through-air and fluidized bed technology, Bühler Aeroglide could offer the processing knowledge and confidential design and testing Martin needed. To obtain the desired results, Bühler Aeroglide recommended multiple drying stages.
Key testing variables included the thickness of the apples, time to dry and temperature set points. The experiments started with cored apples sliced in different ways, some with the peel on and some without. The thinnest apple slices dried faster and remained crisper. They also held the most fruit flavor. Next, Martin and Bühler Aeroglide tested the thickness of the first layer. If the layers were too thick, the slices would stick together. Also important was how much heat to apply initially and for how long. Airflow and temperature adjustments were made, and when the product reached a leathery stage, it was time to turn the apples and decrease the temperature.
"We tested many varieties from our orchards, experimenting with drying times at different stages, depths and thicknesses," recalls Martin. "Then, we checked the results and made adjustments, shortening the drying time and increasing the thickness of the apple."
The next step was to optimize the process. Bühler Aeroglide's application engineers worked with Martin to determine how to make the project feasible. "We simulated the process using four pilot dryers in the lab, moving the product from dryer to dryer to create different drying stages in a continuum," says Aldo De Tuoni, applications engineer for Bühler Aeroglide.
Every possible variable was measured to maximize the capacity of the projected dryer. This included product shrinkage, product bulk density, retention times, temperature and product load. "When dehydrating a vegetable or fruit, we process five to six times the mass we want to obtain for the final product," says De Tuoni. "For example, to obtain 50 pounds of dried apples, a customer would need to process approximately 250 to 300 pounds of fresh apples. We helped the customer create a processing plan based on the lab measurements." The finished line has the capacity to process 1,200 pounds of apples per hour.
An AeroDry multi-stage dryer is used for the application because it offers operating flexibility. Since the apples have changing product characteristics that require unique handling conditions, the  dryer is used to independently control process air temperature, humidity, airflow rate and retention time  at each processing stage. Its design allows product to be re-orientated during thermal processing while making efficient use of floor space.
All material handling conveyors from upstream processing is integrated. The production line has three key components: apple coring/slicing, apple drying and the packaging of finished product.
 Like every Bühler Aeroglide dryer, the AeroDry unit was calibrated based on specific product parameters. During the calibration stage, production and weather-related scenarios are mathematically simulated. Various simulations prior to operation ensure a dryer will meet the customer's needs. 
Today, Martin's Crispy Apple Chips can be found in select Costco stores and other places in Canada.
For more information: Dave Reynolds, (919) 278 2821, dave.reynolds@buhlergroup.com, www.buhlergroup.com