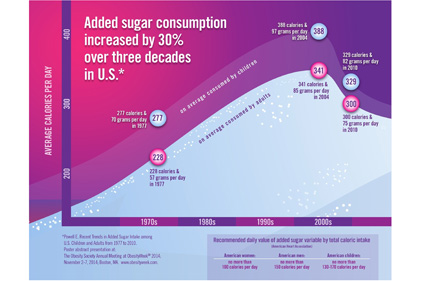 A new study analyzing just how much added sugar US consumers ingest has found American adults increased their consumption of added sugar by 30 percent—228 calories per day in 1977 to 300 calories in 2009-2010—over the past three decades.
"Added sugars increase excess energy and reduce nutrient density in our diets, often contributing to weight gain and obesity," said study author Elyse Powell, Royster Fellow at the University of North Carolina Chapel Hill. "Many American adults and children are consuming so much added sugar, that despite recent declines, consumption is still well above the recommended amount."
Powell identified a peak of added sugar consumption from 2003 to 2004, followed by a slight decline leading up to 2009.
During the same three decade span, calories from added sugars consumed by children increased by approximately 20 percent.
Powell's study is being presented this week at The Obesity Society (TOS) Annual Meeting at ObesityWeek.
While Powell called the results concerning, she emphasized that the 30 percent increase is only an average with the top 20 percent of adult consumers eating 721 calories from added sugar per day. The top 20 percent of children are consuming on average 673 calories from added sugar per day.