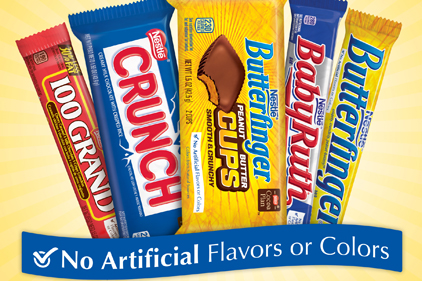 Nestle USA has committed to removing all artificial flavors and FDA-certified colors, such a Red 40 and Yellow 5, from its chocolate candy products by the end of 2015.
The announcement will apply to more than 250 products and 10 brands that include consumer favorites like Nestle Butterfinger, Crunch, Baby Ruth, Goobers, Raisinets, Sno Caps and 100 Grand.
"Our commitment to remove artificial flavors and certified colors in our chocolate candy brands is an important milestone," said Doreen Ida, president, Nestlé USA Confections & Snacks. "We know that candy consumers are interested in broader food trends around fewer artificial ingredients. As we thought about what this means for our candy brands, our first step has been to remove artificial flavors and colors without affecting taste or increasing the price."
 Nestle says its research revealed consumers prefer candy brands without these additives. Instead of these artificial flavors and colors, Nestle will replace them with naturally sourced ingredients though the company says it won't compromise taste. In the brand's Butterfinger candy, Red 40 and Yellow 5 found in the candy's center will be replaced by annatto, which comes from the seeds found in the fruit from the achiote tree. In Crunch, natural vanilla flavor will replace artificial vanillin.