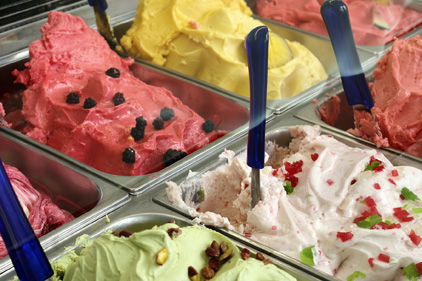 German Chocolate Cake, Black Raspberry Krunch Sundae and Hawaiian Wedding Cake Ice Cream were declared the most innovative ice cream flavors by the International Dairy Foods Association (IDFA) at its Innovative Ice Cream Flavor Competition last week, part of IDFA's annual Ice Cream Technology Conference.
"The innovative ice cream competition is a bellwether of flavor trends in the ice cream and frozen dessert industry, and this year we saw berries, especially raspberries, make a strong showing in two of the three categories," said Cary Frye, IDFA vice president for regulatory and scientific affairs. "Also rising to the top were inspirations from the bakery counter that included the crunchiness or chewiness that we associate with many of our favorite baked goods including streusel, waffles, biscotti, cakes and cookies. Familiar beverage flavors of lemonade, sweet tea and hot chocolate debuted in sorbet and ice creams."
The contest drew 34 entries and winners were selected by the more than 140 industry professionals in attendance at the conference.
First, second and third place awards were presented in three categories.
Most Innovative Ice Cream Flavor
-First: German Chocolate Cake by Perry's Ice Cream Company, Inc.
-Second: Frutos del Bosque by The Ice Cream Club.
-Third: Black Swamp Raspberry Cheesecake by Publix Super Markets, Inc.
Most Innovative Novelty
-First: Black Raspberry Krunch Sundae Cones by Friendly's Ice Cream, LLC.
-Second: Cadbury English Toffee Bars by Wells Enterprises, Inc.
-Third: Salted Caramel Chocolate Chip Sandwich by Kemps.
Most Innovative Prototype Flavor
-First: Hawaiian Wedding Cake Ice Cream by Parker Products, Inc.
-Second (tie): Lemon Chillo by Perry's Ice Cream, Inc. and Belgium Waffle by Baskin-Robbins.
 -Third: Hazelnut Biscotti by Star Kay White, Inc.