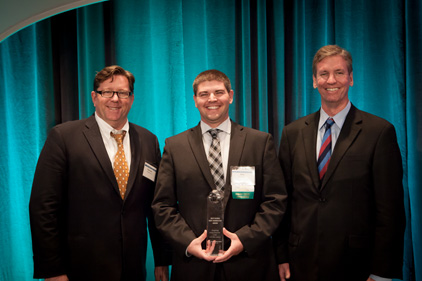 Recognizing outstanding young professionals in the global cold chain industry, the Global Cold Chain Alliance (GCCA) announced Joey Williams as the recipient of the 2015 Global NextGen Award.
One of three finalists, Williams—warehouse manager at Nordic Logistics & Warehousing, LLC—represented North America and was previously honored with the 2015 IARW-WFLO Don Schlimme Future Leader Award.
Awards were presented at 124th International Association of Refrigerated Warehouses (IARW) and World Food Logistics Organization (WFLO) Convention & Expo held in Orlando, FL last month.
According to GCCA, the finalists for the NextGen Award are recipients of industry awards that recognize exceptional achievement by young professionals in the cold chain in a specific region or country. Nominees for the 2015 NextGen Award were put forward by national refrigerated warehousing organizations to compete for the global award at the IARW-WFLO Convention & Expo.
The two other finalists included:
-Ivan Sutic, financial director at Chilleweni Cold Storage, who represented South Africa as the first ever recipient of the South African Refrigerated Distribution Association's (SARDA) Peter Worthington-Smith Award.
-Jeffrey Tusa, project manager for Polar Fresh Cold Chain Services, was the recipient of the Refrigerated Warehouse and Transportation Association of Australia's (RWTA) 2014 Frank Vale Award.
"I am continuously impressed by the quality and dedication that our young professionals exhibit in this industry," said Frank Plant, immediate past chairman of WFLO and president of San Diego Cold Storage. "This GCCA Global NextGen Award celebrates young professionals from around the world and the important role they and the entire cold storage industry play in providing safe and quality food to a growing global population."
The NextGen Award was established in 2015 in order to annually acknowledge talented young professionals who have demonstrated to their employers their potential to become future leaders and make positive contributions to the development of the industry. Among other eligibility requirements for the award, nominees had to demonstrate excellence in their work, the potential to excel further in the many facets within the industry, and possess insight into their organization's strategic values and direction, policies and ways of working.
 "This whole process has been a tremendously rewarding experience for me", Williams said. "To have the opportunity to compete for the NextGen Award with other young leaders from around the world like Ivan and Jeff is amazing and I look forward to see who follows in our footsteps."