Automation
Processing
Automation
Processors turn to robots for production jobs
No matter what shape or weight, any food product can be handled deftly by a robot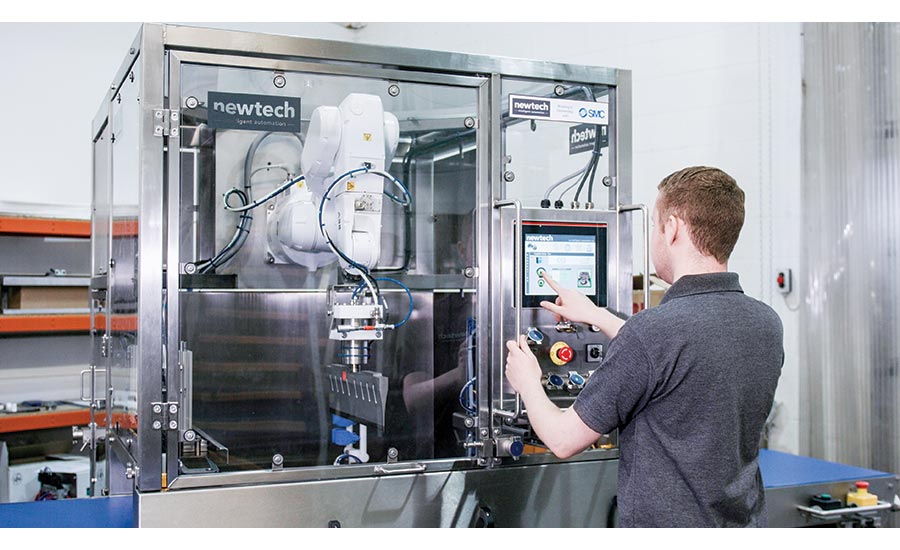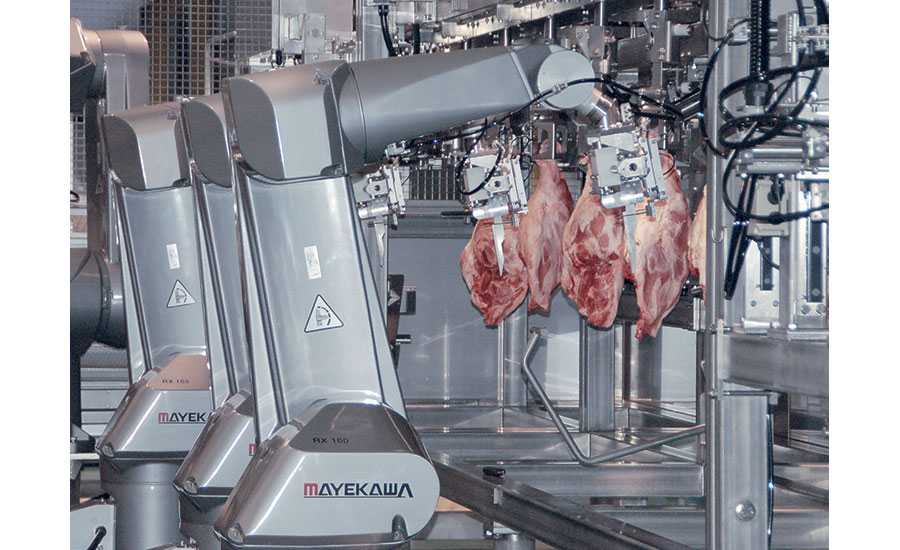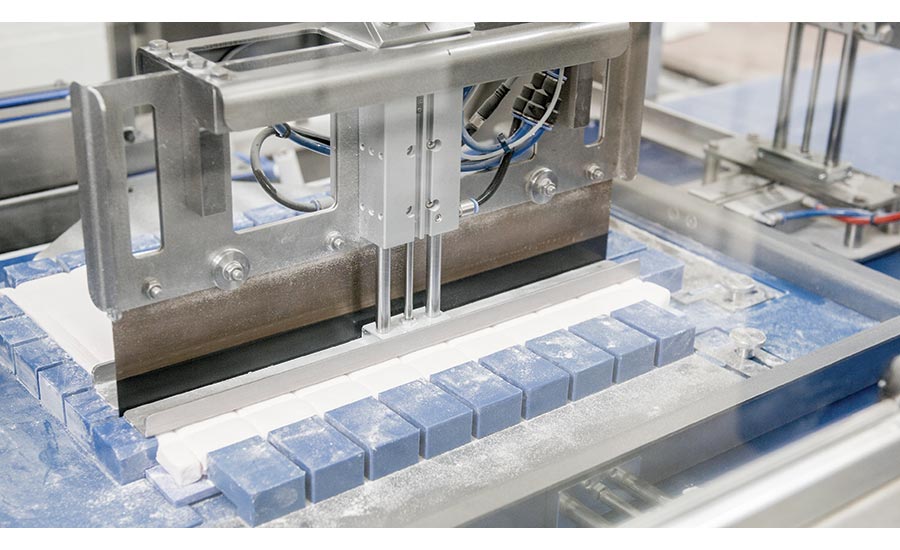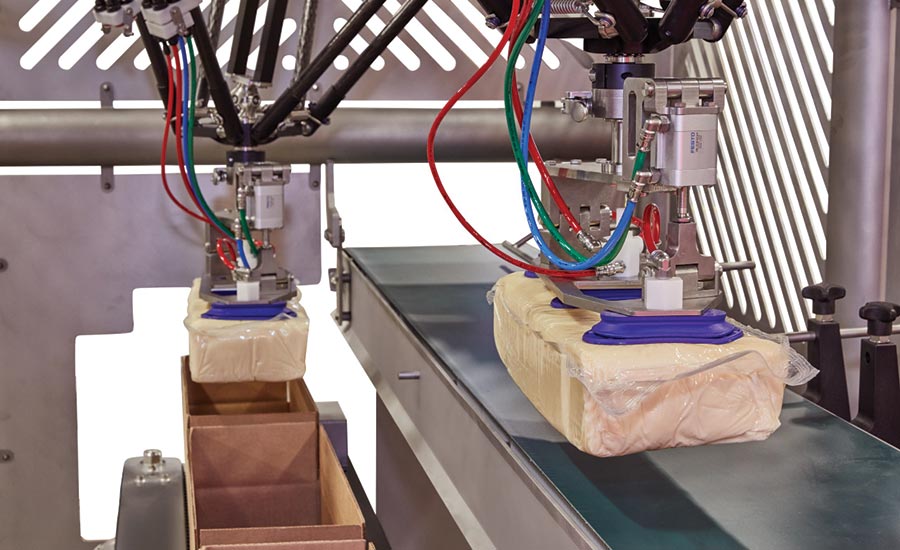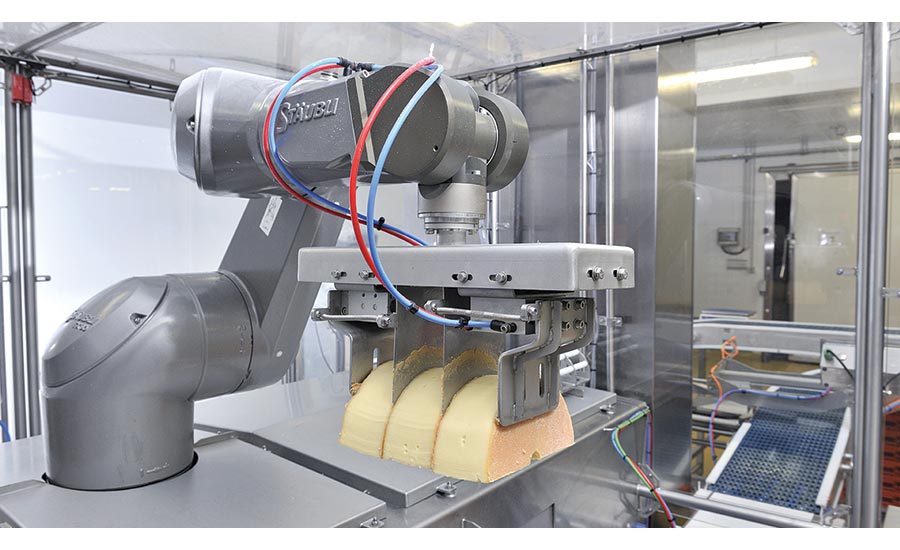 Global industrial robot sales have doubled over the past five years, according to a new study from the International Federation of Robotics (IFR).
In 2017, about 380,000 units were shipped globally, an increase of 30 percent compared with the previous year. The annual sales volume of industrial robots increased 114 percent from 2013 through 2017. The sales value reached a new peak of $16.2 billion in 2017, a 21 percent increase from 2016.
Globally, the food and beverage industry increased robot orders in 2017 by 19 percent to over 9,700 units, but this is still less than 3 percent of the total supply, says the IFR report.
So, when you think of robots in the food industry, you probably think of heavy-lifting jobs, such as palletizing. However, this article looks at four exacting applications for robots on the production floor—including primary packaging.

Precise cake decorations
At a plant in suburban Atlanta, Dawn Foods, makes and decorates cakes that it sells to large supermarket chains. Responding to retailers' requests for more intricate decoration usually required handwork that its robots couldn't do. The company also got complaints about the quality of some decorations.
The solution was to give the robots new "sight" with a 3-D vision system. Dawn Foods already had two cake decorating lines, each with two very capable FANUC robots. But with the 2-D vision system, the robots lacked the ability to work accurately in the third dimension. Cakes' heights vary slightly as they come out of the oven, but the robots would have to assume a particular height from which to work.
Dawn Foods called on Concept Systems, a Certified Member of the Control System Integrators Association (CSIA) to solve the decorating problems.

2-D doesn't cut it
With the old system, as cakes came down the line, a camera took an image of each from above. From that image, the robots could know the diameter of the top of the cake and its position on the conveyor. The robots would apply decorative frosting, such as a border or dollops around the top edge, as well as a limited selection of other decorations, such as green and orange frosting carrots.
A 2-D system can't accurately tell the robots the cakes' height, and the robots had to assume that the cakes were at a specified, preprogrammed height. Variance of as little as an eighth of an inch would cause distortion in the carrot shape, for instance. Customers actually complained that the carrot shapes often looked wrong.
One customer wanted borders or dollops around the bottom edge of the cake, but the 2-D image didn't provide accurate data for a cake's bottom, which is rarely precisely the same as the top. Dawn's solution was to do the bottom by hand, which took significant time and labor.
The 2-D camera posed another problem, especially with insufficient lighting. When the baker switched from vanilla to chocolate cakes, the camera and lighting needed to be adjusted for contrast changes. To get accurate images, operators had to adjust the lighting, do calibration, take a sample image and modify the settings to get conditions right.
Along with vision system optimization, the operator or a maintenance person had to change the program in the robot through a separate controller and interface. All the while, the line was down.
Adding new cake designs also required special expertise that the plant didn't have. A new program had to be created from scratch within the 2-D system and robot controller for each new design. Due to these complexities, Dawn rarely added new cake designs.

New vision
Concept Systems kept the robots on the line—all they needed was better vision and simpler programming. Concept explains the benefits of the more advanced system that it created to visualize each cake in 3-D, using vision data as offsets.
This setup simplified the entire system, as everything could be done through a single, friendlier user interface (UI). As opposed to modifying the vision system and robot controller each time cake designs changed, the operators could now use a single UI to alert the system that something different was running.
Two Hermary SL 1880 3-D laser scanners were installed on each line. Rather than using a photographic image like the old system, they use laser triangulation to create a "point cloud," showing a cake's precise shape, including its exact height every five degrees around its circumference.
The 3-D image of each cake is passed to the robots, so they can adjust not only the height, but also the shape nuances within each cake.
With new eyes for the robots, the baker was able to create higher-quality and more intricate frosting designs. Dawn Foods found that a good deal of manual work was eliminated—for example, the application of a bottom border of frosting.
Giving the robots 3-D sight meant the machines kept their jobs, but better than that, the new cake decorating capabilities have helped Dawn expand its product lines and given the salesforce new tools to sell even more creative frosting designs.
The new UI allows much faster and easier design adjustments. A new cake can be implemented through the friendly UI, rather than requiring a skilled programmer of both vision systems and robot controls. In addition, the cakes' color doesn't interfere with the lasers, so changeover time lost to calibrating the vision system was eliminated.
ROI for the project was eight months, the project duration was five months, and Concept Systems' time spent on site was five days.

Deboning pork: Skilled work for robots
A Japanese meat-cutting operation decided to take the pork joint deboning process away from humans and give it to robots. Deboning pork is a dangerous and quickly tiring process for the most skilled butchers, and with today's demand for pork products, human butchers have a tough time keeping up.
While the pork processing environment is not friendly to humans, it also places exacting demands on robots. The plant's priority is meeting the strict hygiene requirements that apply to fresh meat processing. The plant is disinfected daily with water and appropriate cleaning agents.
After looking at these demands, the owner chose a six-axis Stäubli RX160 humid environment robot, specifically designed to withstand the food industry's harsh cleaning processes and to work with the expected level of reliability under conditions that would kill a conventional robot. Stäubli shared details on the project, which used fully enclosed robots equipped with special gaskets that conform to the IP65 standard of protection. The system designed and built by Mayekawa Manufacturing Company in Japan is now a standard product offering.
Use of the Stäubli overpressure unit further increases the degree of protection. For example, the wrist meets the watertight requirements of IP67. The vertical internal cabling has also proven itself. All the connectors are located under the robot pedestal where they are safe from water ingress.
In addition, the Japanese processor posed some tough demands on the robot in terms of speed, precision and flexibility. The processor needed a throughput of no fewer than 500 portions of pork product leaving the plant every hour. To get the performance and speed required, three Stäubli robots were installed on the line, and they're pushed to the limit to meet these requirements. The challenge is that no two joints of meat are the same, so flexibility is required to perform well.
As was seen in the cake decorating application, a good vision system is required for the robots to do their butchering with speed and accuracy. Plant engineers opted for a high-tech "vision" solution. An X-ray system detects a bone's position in the joint of meat and calculates the precise cutting line for the robots. The entire cutting operation is managed by Stäubli's HAMDAS-R robotic system.
This is a perfect solution for this application, but it wasn't without challenges, as the pork joints are liable to sway about on the overhead conveyors. In order to counteract this uncertainty, the robot must wield the knife attached to its wrist with precision to avoid collisions with bone.

Precision and speed
The three robots fulfill the pork deboning requirements with ease and work with expected precision, speed and reliability, even when the robots are subjected to the rigorous daily cleaning routine, typical of a meat production facility. As humid environment robots, they don't rely on additional protective covers, which saves on cost and additional labor. Another benefit—the robots are able to operate with H1 lubricant without any loss of performance.
The Japanese pork facility has contributed to the humanization of the fresh pork processing environment, since manual pork deboning is physically exhausting, which often leads to negative health effects. The use of the six-axis robots for meat processing has opened up new dimensions in productivity and efficiency.

Robotic automation a must for many pork industry jobs
Another example comes from Seaboard Triumph Foods, which installed robotic automation in several parts of its pork processing plant. Some applications include spinal cord removal, cutting and trimming operations, neck trimmers, back-split saws, belly trimming and water-jet cutting operations.
For more on this operation, see "Food quality, employee safety reign supreme at Seaboard Triumph Foods," an FE Fab Food Plant story, August 2018, especially the section, "Tried and tested automation/innovation."

Another cut of confectionery
Founded in 2013 by James Middleton and Andy Bell, Boomf created a new and unique way of sending personalized greetings—using small marshmallow confectionery. The Reading, England-based company had a unique idea. Customers visiting Boomf's website can print their choice of photos, graphics and messages onto marshmallows, a quirky alternative to sending flowers, chocolates or greeting cards.
The idea caught on a lot faster than the cofounders had anticipated. Certainly, it's a nice problem to have, but after a year, their plant had a tough time keeping up with orders. The problem wasn't in making the marshmallow sheets; it was in cutting the sheets into small 40x40-mm squares.
The expectation of high quality meant that each product needed to be carefully cut, which caused a bottleneck in production flow. Difficulties achieving a high-quality cut meant that a lot of product was wasted.
Boomf employed 10 people to cut trays of marshmallow into squares. After every five or six cuts, the blade would need to be cleaned, which took five minutes. Miscuts also contributed to wasted product.

How to solve the cutting problem
With the company specializing in such a niche product, the founders thought that solving this problem with automation would require custom-built equipment. How many vendors would have experience with this product? "There was no marshmallow printing shop around the corner," says Middleton.
He spent a lot of time looking at various cutting machines for the food industry on YouTube and came across a video of a robot cutting application that used an ABB six-axis robot and ultrasonic blade to cut cakes. The automated system was integrated by Newtech, an ABB Robotics UK Authorized Value Provider.
"As soon as I saw the video, I thought that's the solution we need," says Middleton. "We got on the phone, contacted Newtech, and then we went up to trial some solutions."
Because the robots in the video were set up to slice cakes or cheese, cutting sticky marshmallows required some changes to be effective. Applying a mechanical Teflon-coated blade to the ABB IRB 1200 robot, Newtech was able to come up with a solution. The blade passes through an oil reservoir before the cut is made to ensure a suitable cutting. Once the marshmallow is portioned, the blade passes through a cleaning tank before repeating the process.
A clean-cut design is of the utmost importance to Boomf. "We make sure we have a precise square, not just something that's almost a square, and we have very sharp angles and edges so that we have a good printing substrate," says Middleton.
Now that the process has been automated, the procedure takes 17 seconds. Newtech also integrated an intelligent vision system into the robot cell to ensure that Boomf would get a perfect cut each time. "There's next to no wastage now, and that's been a real benefit to the figures," says Middleton.
In addition to improved product quality, the robot solution has raised productivity levels significantly. Boomf now has the flexibility to respond to changes in demand, which is especially important with holidays such as Christmas and Valentine's Day. Improving the process has enabled Boomf to focus on other areas of the business, such as expanding delivery to more countries.
Using the IRB 1200 robot for cutting has resulted in an improvement in health and safety. Middleton should know. In the early days of the company, he severed a nerve in the end of his finger while cutting a batch with a knife. Removing the human interaction from the cutting process avoids the risk of such accidents, and employees can apply their skills to other areas of the business, such as operating the robot.
Newtech's automated solution has been a real success for the company. With an HMI, ease of use enables the staff to operate the cell following simple training. This means there is no need to keep an engineer on site to make programming changes.
With the success of the cutting operation, Boomf has been investigating the potential of automating the placement of the product in boxes. The confectioner has a challenge with people handing the delicate product without damaging it—not to mention that there is always the possibility of a human accidentally transferring germs to the product if he or she is ill.
Should food manufacturers invest in robots? "I'd say go for it," says Middleton. "The success that we've had with our robot speaks for itself. Any investment in robotics is a great decision for any company that wants to ensure its future in an increasingly digital market."

Giving pick and place to the robots
Maybe you exercise with 10-lb. hand weights. But think of repeatedly moving 10- to 12-lb. blocks and logs of cheese for eight hours a day, and it's another story. JLS Automation tells of a leading North American dairy company that recently integrated robotics into its block cheese production line.
At the time, the line was 100 percent manually operated, with the repetitive task of handling cheese blocks and logs in a cold, wet environment. The process required physically strong labor—roles that were increasingly challenging for the dairy to fill.
To ensure production continued and to avoid downtime, the company looked to an automated solution—in this case, one that could replace or allow the reallocation of labor for placing fresh unwrapped cheese on the packaging line to be wrapped into primary packaging. Then, those heavy blocks needed to be placed into a shipping case for wholesale customers. The ideal robotic packaging system needed to work reliably in a semi-corrosive environment due to the salt in the brining process when making cheese and to withstand full washdown to meet sanitary requirements.
JLS Automation, which provides custom vision-guided solutions for the food packaging industry for primary and secondary packaging systems, provided an answer. The solution was a combination of high-capacity, sanitary delta robots in addition to a large, high-payload sanitary six-axis robot.
The entire system featured full washdown capabilities, and JLS, which specializes in hygienic packaging solutions for harsh sanitary environments, included a special custom coating developed specifically for the dairy's production environment. Guided by vision technology, each cheese block is picked and efficiently packaged.
Working closely with the processor, JLS developed, field tested and installed the new system to automate fully the company's cheese production line.
Since the transition, the dairy company has reported more consistent results, more efficient operations with nearly all bottlenecks eliminated and, as a result, higher capacity and overall increased production.
"Our customer has realized several benefits since transitioning its line from a manual process to a fully robotic solution," says Craig Souser, president and CEO, JLS Automation. "Production is now more efficient as we've solved the workforce challenges this customer was experiencing. And, more importantly, the JLS solution increased food safety since only the robots have direct contact with the raw cheese. We pride ourselves on our highly hygienic and sanitized solutions, and this case is an ideal example of how automated packaging solutions can help ensure the quality of your product."

For more information:
ABB Robotics, https://new.abb.com/products/robotics
Concept Systems, http://conceptsystemsinc.com
FANUC Robotics/America, www.fanucamerica.com
JLS Automation, www.jlsautomation.com
Newtech, www.newtech-ltd.co.uk
Stäubli, www.staubli.com/en-us/robotics/
International Federation for Robotics, www.ifr.org

Resources:
"Top 6 Robotic Applications in Food Manufacturing;" Alex Owen-Hill; Aug. 8, 2017
"Robots in Food & Beverage Industry," website, Robotics Industry Association
"Watch robots snatch up Just Born's Peeps without squishing them;" Anthony Salamone; The Morning Call; Allentown, Pa.; March 29, 2018
ABB Robotics marshmallow cutting, ABB Robotics, www.youtube.com/watch?v=Q-Jp0rhLhOU
"Scratch my back, and I'll scratch yours," FE, November 2014


I want to hear from you. Tell me how we can improve.