Crown Bakeries, a national baking company producing fresh and frozen bread, buns, biscuits, English muffins and other laminated dough products, has been a staple in the baking industry since 1996.  
After acquiring Crown Bakeries and its Smyrna, Georgia facility, private equity firm Arbor Investments sought the expertise of Stellar's Food & Beverage team to design and build an upgraded state-of-the-art employee welfare space within the 200,000-square-foot processing facility.
By January 2022, select demolition and construction on the existing 50-year-old spec building began. The nearly $5 million project expanded manufacturing floor space at the processing facility, tripled the research and development center by adding an innovation lab, and expanded employee welfare, offices and café facilities.
A Major Expansion with Minimal Interruption
The Crown Bakeries facility needed to remain operational throughout the renovation. To minimize disruptions and ensure food safety, Stellar constructed temporary barriers and maintained separate airflow pressures to contain dust and debris from the construction. Crews also built contained corridors to accommodate forklift and other equipment traffic safely.
Due to the increased volume of the space, Stellar specified larger rooftop air units to cool and circulate air in the updated welfare areas properly. This involved surveying, engineering and reinforcing the existing roof structure to ensure structural integrity.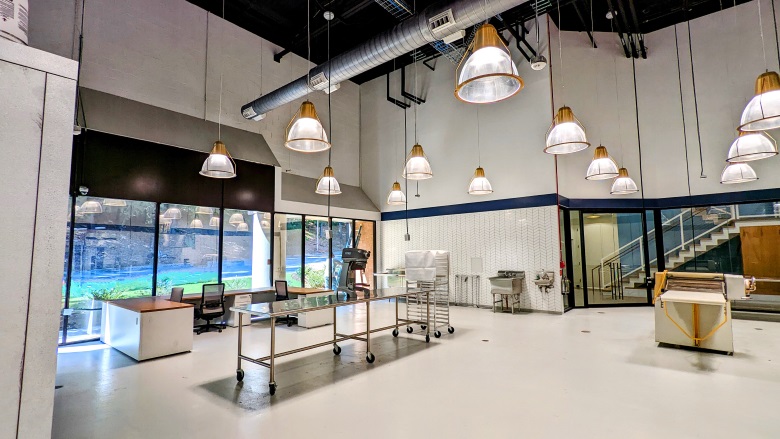 The increased ceiling height features HVAC cooling and circulates indoor airflow. Image courtesy of Stellar
"We did our due diligence to ensure this was done correctly and efficiently," says Stellar project manager Grant Shelton. "All previous construction documents and information had been destroyed, so we had to investigate existing conditions and start from scratch."
Since the original structure's design facilitated the housing of three separate tenants, Stellar also coordinated the re-permitting, design and installation of the renovated space's fire protection system. 
Revitalized Employee Welfare Spaces
The Stellar design team reimagined the facility's aging employee welfare spaces, introducing an urban industrial design that prioritizes functionality and efficiency. Interior features included:
Polished and sealed concrete flooring
A larger, open-concept lobby with high ceilings and ample light fixtures
An ornate staircase leading from the lobby to the mezzanine conference room and executive offices
High-end glass and brass ornamental fixtures in office and welfare areas
An expanded employee break room with additional seating and controlled access
Fiber-reinforced plastic (FRP) paneling in locker rooms and bathrooms for easy cleaning
One of the most prominent elements of Stellar's 10,000-sq.-ft. expansion is the facility's innovation lab adjacent to the main lobby. This R&D space and test kitchen features top-of-the-line equipment provided by the owner to host visitors and develop new product formulations.
"Our goal with the renovation was two-fold: to refresh and create a modern facility our employees are proud to work in every day while also building a dedicated R&D center to host customers and brands for hands-on collaboration," explains Yianny Caparos, president of Crown Bakeries. "We encourage our partners to visit and take advantage of the new tools and talent we have here to accelerate innovation."
Delivering a Successful Renovation on a Tight Timeline
Despite pandemic-fueled material delays, labor shortages and a lack of existing drawings for the 1970s-era building, Stellar completed the project in less than a year, by October 2022. The upgrades aim to combat a competitive job market, enabling Crown Bakeries to attract and retain employees, particularly with other large employers nearby.