New Products
Technology Sourcebook
Inspection System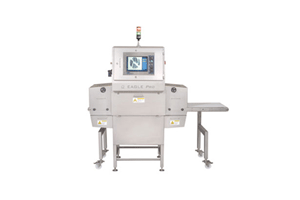 Designed for the inspection of mid-sized packaged products, the Eagle Pack 430 PRO inspection system provides 16.9 in. of detection coverage at the belt and is capable of imaging up to 350 ft./min. The system can inspect multiple lanes of the same or dissimilar products or use one lane for production and the other for rework. It features a CAT 3 (EN 954), PLd (EN 13849) safety system with embedded self-diagnostics; the system can also be remotely accessed by Eagle technicians to diagnose and often correct issues without onsite service. The system is available with IP65 and IP69K environmental ratings as well as standard and high-resolution packages.

Eagle Product Inspection;
877-379-1670; www.eaglepi.com



I want to hear from you. Tell me how we can improve.