Seoul, South Korea-based Dongwon Group, owner of the StarKist brand, fired an autumn volley with Autentico, chunk light tuna with jalapeños, chili peppers and other seasonings with an Hispanic flair. The line debuted in Walmart stores in October, according to Jennifer Albert, marketing director for Pittsburgh-based StarKist. Walmart remains the line's exclusive retail outlet.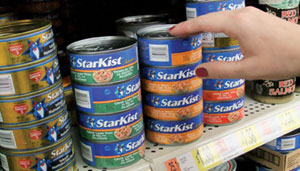 The Hispanic market is targeted by StarKist with its Autentico line,
though the company expects the premium products to appeal to a 
wider audience looking for more variety and healthier options.
Within weeks, Oregon Seafoods was on grocers' shelves in the Pacific Northwest with Sea Fare Pacific, six ounces of albacore that is smoked or flavored with jalapeños or sea salt. The preservative-free retorted pouches retail in the $5.50 to $7.00 range, with a smaller pouch set for distribution through sporting goods stores and other retail outlets outside the food sales mainstream.
West Coast "boutique" canneries have dabbled with flavored tuna in recent years, observes Mike Babcock, owner of Coos Bay, OR-based Oregon Seafoods, but both Albert and he see bigger things ahead for flavored tuna. New dietary guidelines from USDA that recommend consumption of more seafood are part of it, but Albert believes a trend toward more "adventurous" eating—along with the burgeoning Hispanic population—will fuel growth in the formerly moribund tuna category.
"These products are designed to provide an alternative to a cheeseburger, and that's where incremental growth will come," Albert says. "It's not just tuna fish; it's more a complete meal."
The revival of StarKist's classic "Sorry, Charlie" ads speaks to healthier eating, with a catch phrase thanking Charlie the tuna for providing a healthy option. But well before the revised food pyramid debuted last year, StarKist and other tuna processors began catering to Americans' interest in more exotic flavor options. StarKist saluted its parent company's Asian roots with a sweet and spicy tuna; roasted garlic and lemon flavors in its Select line were meant to evoke Italian fare. The more adventurous tuna commands a premium: The shelf price for Autentico at a Chicago area Walmart in December was $1.38, or 25.1 cents an ounce. Bumble Bee's varieties, featuring olive oil and sundried tomatoes, jalapeño and chipotle flavors, were pricier still, at 39.6 cents an ounce.
Sea Fare Pacific caters to an even more discerning clientele. A refugee from the lumber business, Babcock followed his passion for food two years ago and developed his own food plant, outfitting the space with two Toyo Jidoki pouch filling and sealing machines and retort equipment. After copacking foodservice pouches with two- and four-pound quantities of tuna, he launched the Sea Fare line in November 2011.
To maintain product quality, Babcock flash freezes whole fish and maintains temperatures below 30°F throughout the processing and packaging process. Cooking and sterilizing are performed in the retort, he explains, resulting in better flavor and up to six times the omega 3 content of conventional processes. He boasts the six-hour smoking process using alder chips produces "a mild, moist meat." But it's the jalapeño flavoring that is provoking the most enthusiasm from grocery buyers, he adds.
Tuna packers are hoping the enthusiasm will carry over to store shelves and more shoppers will opt for value-added tuna.