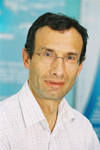 Ives Rey. Source: GFSI.
The Global Food Safety Initiative (GFSI), managed by The Consumer Goods Forum, announced the appointment of Yves Rey, corporate quality general manager at Danone, to succeed Jürgen Matern, vice president, sustainability and regulatory affairs at Metro AG, as its board chairman. Rey took over the leadership of GFSI at the recent conference in Orlando, FL.
Commenting on the appointment, outgoing Chairman Matern said: "The GFSI Board is delighted that Yves has agreed to take over this role, which occurs at an important time for GFSI. The initiative has gained tremendous momentum over the last few years in many parts of the world. GFSI still has a key role to play not only in encouraging industry-wide adoption of GFSI recognized schemes, but also in supporting smaller suppliers in different parts of the world to build their capacity and ensure the development of effective food safety management systems through a systematic continuous improvement approach."
Rey added, "Food safety extends beyond any one company or country; it is a shared responsibility that includes governments, regulatory agencies, food-related companies and consumers without forgetting media, NGOs and consumers. 21st century food safety requires greater collaboration than ever before, and GFSI can act as a bond between all the stakeholders."
Matern will continue to serve on the GFSI board of directors.
Rey becomes the sixth chairman of the Global Food Safety Initiative. He will continue to be supported by GFSI Vice Chairs Cenk Gurol, president, AEON Global SCM CO., LTD, Japan; and Frank Yiannas, vice president of food safety, Walmart Stores Inc., whose appointments were announced in March 2011 and June 2011, respectively.