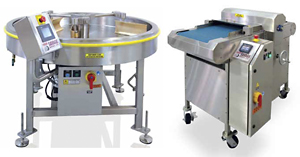 Simple or complex, Savage Brothers candy machines, with a common control architecture from Schneider Electric, are much easier to program and maintain. Delivery times have been shortened, and software updates can be done by email. Source: Schneider Electric.
Since 1855, Savage Brothers (Elk Grove Village, IL) has been building machines that melt and temper chocolate. Previously, designs used a programmable controller (PLC) and two temperature controllers, but the features were hard to use, and the PLC wasn't easy to program or make changes. Since each candy processor required some degree of customization, the machine builder began looking for a simpler solution.
In 2009, Savage Brothers began examining how it could consolidate its machine platforms to enable simpler programming and have more diagnostic and performance capabilities. After meeting with Schneider Electric, the machine builder found that the Magelis XBT GC HMI controller would meet its needs. The device combines control capabilities with an easy-to-use HMI.
"We were able to replace two temperature controllers with the HMI/PLC combo unit, going from a huge control box to a smaller one," says Paul Sulisz, Savage Brothers director of operations. "More importantly, our machines are semi-custom. We make them per end-user specifications. The XBT GC HMI controller gives our customers more of what they're looking for because we're able to make certain custom tweaks to the program much more efficiently."
The HMI controller is part of Schneider's MachineStruxture architecture, a comprehensive automation solution for industrial machines, based on flexible hardware platforms and SoMachine, a single modular, reusable software suite. The software helps OEMs design more energy-efficient and cost-effective machines that maximize performance using tested, validated and documented architectures and application function block libraries.
In 2010, after having success with its simple machines, Savage Brothers began converting its more complex machines to use the MachineStruxture platform. Since the higher-end machines require more controls and I/O, the machine builder uses the Modicon M238 PLC. Both the HMI controller and the PLC are programmed with SoMachine software.
"Everything that we learned about the XBT GC HMI controller we were able to transfer over to the M238 PLC. We didn't have to learn new product," says Sulisz. "We like that MachineStruxture gives us the flexibility to engineer both our simple and complex machines in one environment. We don't have to go in and out of different software packages to program the various pieces of hardware."
The machine builder finds service and maintenance easier with SoMachine. "If there's a program change, we can email it out or put it on a memory stick and mail it to our customers," adds Sulisz. "We don't have to send out a service tech. Before, updates could take as long as a week, whereas now they're on the fly."
The new machine architecture lets Savage Brothers say "yes" to their customers' requests for complex machines. "In the past, we would avoid a more complex machine because we didn't have a cost-effective or efficient way to develop it," says Sulisz. Functions can now be built into a machine in a few minutes rather than a few days. In the past, it could take as long as six months to build a single machine. Now this time is often cut down to a month, allowing the machine builder to increase its business by 20 percent.