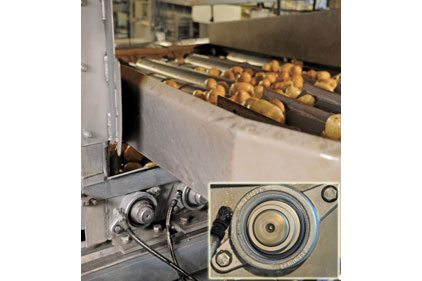 Bearing failures on this roll-sizer caused significant downtime at the Lamb Weston potato products plant. After installing Baldor's Dodge ULTRA KLEEN SS ball bearings, the machine went from being the least reliable to the most reliable. Inset: The new bearings feature SS inserts and are filled with H1 food-grade grease. The QuadGuard sealing system and Maxlife cage help retain lubrication and prevent washout in wet environments. Source: Baldor-Dodge.
A new set of bearings changes the least-reliable machine to the most-reliable machine in the plant.
ConAgra Foods is dedicated to making the food people love and doing it in an environmentally responsible way. As part of its sustainability strategy, the company has set aggressive goals to reduce greenhouse gas emissions, water usage, waste and packaging. 
In early 2010, increasing plant uptime became a major project at the Lamb Weston potato products plant in Connell, WA. The plant makes French fries and other potato products, primarily for the commercial marketplace. Plant Maintenance Manager Colin Walters worked with a corporate team to identify the top downtime-producing pieces of equipment in the plant. They pored over data collected over a two-year period, identifying equipment failures and whether the downtime was associated with operational issues or a mechanical or electrical failure. Walters says the numbers pointed to a roll-sizer as one of the least-reliable pieces of equipment in the plant.
"In fiscal year 2010, the plant ran 48 weeks of production," explains Walters. "During 29 of those 48 weeks, we experienced at least one downtime event on this roll-sizer, which added up to 2,700 minutes of capacity loss. We took a closer look and found the majority of the failures were related to the bearings on the machine."
There are 22 bearings on the roll-sizer, one on each end of the 11 tapered rollers that drop cleaned-and-peeled potatoes by size into the appropriate flume, carrying them to the knives to be cut into fries. 
"Because the bearings were always at different states of wear on this machine, they caused uneven wear on sprockets and failures with drives and chains," says Walters. "We believed that if we installed a better bearing, we could significantly reduce downtime on this machine."
To help find that better bearing, Walters called Jeff Stroben at Applied Industrial Technologies' Pasco Service Center. Stroben, who has called on the Connell plant for the past 21 years, took a closer look. He said poor sealing was the primary factor in bearing failure. 
Stroben recommended the Baldor-Dodge ULTRA KLEEN stainless steel ball bearing, which offers a triple-lip sealing system plus a cage that holds in the grease and prevents it from being washed out. 
At first, Walters considered changing out only half the bearings, but then quickly decided that to get an accurate comparison, all of them needed to be changed. "Since installing these Dodge bearings in the first week of August 2010, we have had no downtime event caused by bearings on this machine," says Walters. "Again, the numbers tell the story about this success, because we have run the plant 56 consecutive weeks without experiencing any bearing or drive failures. It's amazing how this machine has moved from least reliable to most reliable just by changing bearings."
For more information: