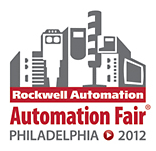 Rockwell's Automation Fair 2012 convenes in Philadelphia, PA on November 7 and 8 with pre-show events on the 5th and 6th. The conference and expo will take place in Philly's Pennsylvania Convention Center, an easy half-hour SEPTA train ride from the airport—with local train connections to New Jersey and the immediate suburbs and to Amtrak's 30th Street Station. Why take a cab?
The 2012 event marks the 21st anniversary of the Automation Fair event and features technical sessions, hands-on labs and industry forums. Exhibits will show solutions to enable plant-wide optimization, drive sustainable production and improve productivity and efficiency throughout the lifecycle of automation investments.
Pre-show events include the Process Solutions User Group (PSUG) 2012 annual meeting (November 5-6, 2012) and the Safety Automation Forum (SAF) 2012, which is scheduled for November 6. PSUG features more than 20 educational sessions, PlantPAx process automation system technology road maps, sessions to plan future development to PlantPAx and 24 users providing best practices with the PlantPAx system. At SAF, best-in-class manufacturers will share procedures and applications that improve safety and productivity.
Several Industry Forums are also planned. The Food and Beverage Forum will meet on Wednesday, November 7 from 1:30-3:30 p.m. This forum will include:
Improving manufacturing processes and increasing asset performance
Using information to drive cost reductions and improve productivity
Addressing safety and sustainability at plant operations.
The Food and Beverage Forum is intended for plant managers, operational/production managers, manufacturing directors, engineering managers, IT managers as well as those involved in quality assurance, engineering, maintenance and operations.
For more information on the 2012 event, visit the Automation Fair website and download the 2012 program.