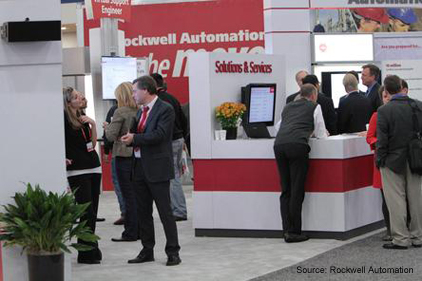 The 22nd annual Rockwell Automation Fair, held November 13-14 at the George R. Brown Convention Center in Houston, TX, offered manufacturing professionals an up-close look at the top trends in automation and process control.
Over 9,700 attendees from hundreds of companies participated in hands-on labs, demonstration workshops, technical sessions and industry forums—in addition to interacting with over 100 exhibitors of cutting-edge technology.
Rockwell's Kris Dornan points out that food and beverage manufacturers face great opportunities and daunting challenges as the global middle-class continues to grow.
One new concept introduced at the event is the Safety Maturity Index. This self-guided assessment tool  that measures a company's progress in creating a safety culture. Designed in conjunction with cultural development experts and leading manufacturers, the index can help processors determine if they need to make a greater capital outlay in safety technologies, or if current compliance procedures and processes should be augmented.
Another session focused on boosting energy efficiency by considering the case of the University of Texas at Austin. The university now generates 100 percent of its own electric power, steam and cooling. Its heat and power operate at 88 percent efficiency and 99.99998 percent reliability, compared to just 62 percent efficiency 17 years ago. Juan Ontiveros, executive director of utilities and energy management for the university, attributes the improvement to implementing digital controls and new equipment in stages while setting manageable goals. 
The 2014 Automation Fair will be held November 19-20 in Anaheim, CA.