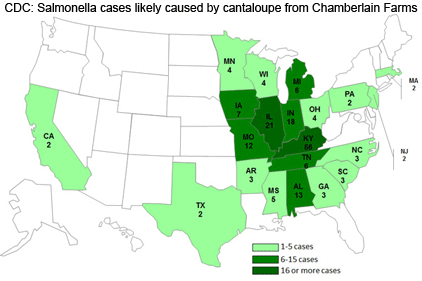 Map of Salmonella infections by state (August 23, 2012) shows heaviest concentrations in Illinois and Kentucky. Source: CDC.
On August 23, the CDC reported a total of 178 cases of Salmonella Typhimurium in 21 states from an outbreak attributed to cantaloupes from a farm in southwestern Indiana. The outbreak has hospitalized 62 and caused two deaths, according to the CDC. Although illnesses have been reported by CDC since July, the FDA had not released a recall until August 22.
In an update on August 28, CDC reported the results of FDA's environmental sampling: "From August 14 to 16, FDA investigators collected samples from surface areas at the farm as well as samples of cantaloupe at Chamberlain Farms. Samples of cantaloupe collected at Chamberlain Farms show the presence of Salmonella Typhimurium bacteria with a DNA fingerprint that matches the outbreak strain."
Among infected persons for whom information is available, illness onset dates range from July 7, 2012 to August 9, 2012. Ill persons range in age from less than 1 year to 100 years, with a median age of 48 years old. The two deaths were reported in Kentucky, according to CDC.
Reported on CDC's web site on August 17, early epidemiologic, laboratory and traceback investigations conducted by officials in local, state and federal public health, agriculture and regulatory agencies indicate that the cantaloupes grown in southwestern Indiana are a likely source of this outbreak of Salmonella infections. According to new information posted on CDC's web site on August 23, cantaloupe originating from Chamberlain Farms Produce, Inc. of Owensville, IN is a likely source of this outbreak.
The fact that this investigation had been going on for some time with no official FDA recall until August 22 prompted some early discussion and consternation.
On August 19, Food Safety Attorney William Marler called on CDC and FDA to name the grower and retailers involved in the Salmonella cantaloupe outbreak. "At this point [August 19], with 141 sick and at least two dead, the public has a right to know where the cantaloupe was grown and where it was sold. There is simply no excuse that this information is not made available," says Marler. "By keeping these companies' names secret, the CDC and FDA may be trying to protect businesses, but are ultimately doing the public a disservice by quashing important data that could otherwise help consumers make informed decisions about what to eat and where to shop."
Preliminary results of antibiotic susceptibility testing indicate that this strain of Salmonella is susceptible to commonly prescribed antibiotics. According to CDC, there is no connection between this Salmonella outbreak and the 2011 multi-state outbreak of Listeriosis linked to whole cantaloupes from Jensen Farms in Colorado.
Likewise, there is no correlation to date between this Salmonella outbreak and several recalls from North Carolina-based Burch Equipment LLC (also known as Burch Farms) between July and August of cantaloupes and honeydew melons, which may be contaminated with Listeria. These FDA-reported recalls were dated July 28, July 30, August 3, August 10, and August 13, 2012. There have been no illnesses reported to date related to the Burch Equipment Listeria recalls. The Burch Equipment/Burch Farms recalls are in no way related to last year's Jensen Farms recalls.