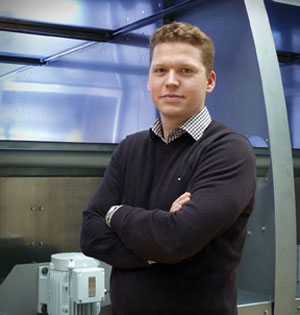 Christian Mühlherr, head of start-up & application-pasta, Bühler AG, Uzwil, Switzerland. Source: Bühler AG.
The recovery of in-process heat from a long-goods pasta dryer and its stringent mechanical redesign reduce the thermal energy requirement by 40 percent, cooling energy by 20 percent and electrical energy by 10 percent. Assuming thermal energy accounts for 2 to 3 percent of the total cost of producing goods, a 40 percent thermal saving trims total production cost by roughly 1 percentage point.
Bühler AG's new Ecothermatik dryer generation obtains high pasta quality in terms of appearance, cooking characteristics and resistance to breakage, while achieving such a level of energy savings. Compared to conventional lines, the new Ecothermatik dryer reduces energy needs from approximately 25 to approximately 15 kilowatt-hours per 100 kilograms of pasta. 
Bühler was investigating how to improve the conditioning of pasta through enhanced dryer control. It developed a glass transition concept that uses and controls temperature and relative humidity in the drying zones in such a way to maintain pasta in a rubbery state throughout the drying process.
Maintaining pasta in this rubbery state is ideal to get the strongest cross-linking of dough proteins and consequently a firm "bite" and cooking stability. Stresses in the pasta, caused by shrinkage, are reduced when the pasta is in the rubbery state. Stress-free drying leads to completely stable pasta after 75 minutes in the stabilization phase. During industrial trials, Bühler discovered that the glass transition concept with its specific drying kinetics opens the potential for in-process energy recuperation and significant energy savings.
Christian Mühlherr, head of start-up and application-pasta at Bühler, is a principal figure in the development of the dryer technology. During his studies in process and environmental engineering at HTWG University of Applied Sciences in Constance, Germany, Mühlherr served as an intern in Bühler's grain processing division. While working in the corporate technology department, he investigated methods to optimize pasta drying, which became the focus of his thesis. Based on the thesis and other academic achievements, Mühlherr was awarded an HTWG Alumni Prize. He joined Bühler as a process engineer before assuming his current position. The Ecothermatik dryer, commercially available since 2012, received the second European Food Processing Implementation Award in 2012, a recognition created by High Tech Europe to salute collaborative knowledge transfer that helps improve food quality and processing. Ecothermatik dryers are currently used on long-goods lines up to 1,750kg/h capacity. Other applications will follow.
FE: When did the Ecothermatik development project begin?
Mühlherr: The development of the Ecothermatik long-goods pasta dryer started in 2006 with a basic research project that included drying long-goods pasta applying the glass transition concept. Dr. Eliana Zamprogna from Bühler had the idea to take this concept from a rice drying project and apply it to pasta.
FE: What was the impetus?
Mühlherr: There are two points of focus when applying the glass transition concept for the drying process. First, reducing the risk of tension-induced cracks in the pasta to a minimum. Second, shortening the process time and minimizing the dryer size and therefore its footprint. We wanted to achieve these without sacrificing any of the required qualities of dry pasta. The target was to reduce energy consumption, reduce space requirements, improve process safety and generate pasta of the highest quality. 
FE: Were there technical limitations or other barriers that preempted energy recovery from pasta dryers previously?
Mühlherr: Approximately 260 kilograms of water must be extracted from each metric ton of finished long-goods pasta. In a conventional process, up to six exhaust airstreams with different temperature levels exist along the entire drying process. The temperature and water levels of these airstreams are inappropriate to be used for heat recovery within the process itself. This low-energy vapor is exhausted into atmosphere in a conventional dryer. 
With Ecothermatik, there are only two exhaust positions: at the end of the pre-drying zone and the main-drying zones. Capturing the conditioned air at these specific process exhaust points is ideal for in-process energy recuperation. Moreover, the newly designed and optimized dryer energy system allows cooling energy reductions of at least 20 percent. Since the pasta has less stress, total drying time was reduced 20-25 percent by halving the stabilization time.
FE: Why is glass transition important?
Mühlherr: In conventional drying processes, the surface of the pasta is transferred to a glassy state as early as during the pre-drying stage, due to the relatively dry and hot air applied there. As products lose most of their water inside the pre-dryer, the concurrent incipient shrinkage of the pasta causes stresses inside the product. These stresses are not reduced before the pasta reaches the main drying stage because the rubbery characteristics are not restored before that point.
Ecothermatik tackles this problem as far upstream as the pre-dryer. A climate control system and drying curve using moister air in the pre-dryer prevent the pasta surface from becoming glassy.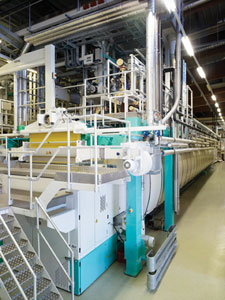 Reducing the exhaust streams and adjusting the temperature and relative humidity in the dryer are key design and process developments that enhance pasta production, energy savings and machine cleaning. Source: Bühler AG
FE: Describe how the system functions.
Mühlherr: The main dryer features a thermal energy recuperation system. Radiators within the dryer heat the drying air. The radiators are fed with water that runs in a countercurrent flow to the direction of the pasta flow. Hot and humid air from the end of the pre-dryer stage and main dryer stage are drawn into a heat-recovery unit. The exhaust heat is used to heat process water, which is fed mainly into the heating circuit of the pre-dryer. This approach dries the pasta gently, in a stress-free manner. The dryer features heat exchangers above the pasta, and high-efficiency fans with reinforced polymer blades provide uniform temperature and humidity conditions while reducing electrical energy consumption. The recovered energy is mainly fed directly into the drying process.
FE: What are the product quality improvements?
Mühlherr: Product quality is guaranteed on the same high level as in conventional processes through the promoted cross-linking of the dough proteins in the rubbery state. Additional benefits are achieved in enhanced process safety which avoids breakage of pasta due to build up tensions during drying, lower energy consumption and lower space requirements.
FE: What did the basic research involve?
Mühlherr: Bühler established the glass transition temperature curve of pasta, which was then verified and confirmed by laboratory trials. Bühler was able to plot a drying profile based on pasta's glass transition at different conditions of temperature and relative humidity. The drying concept was finally tested successfully on a conventional, but accordingly modified, industrial long-goods pasta line.
FE: Are energy savings contingent on industrial throughput?
Mühlherr: Yes, the energy savings were fully achieved on an industrial Ecothermatik-line with a capacity of 1,250kg /hr. This first line was installed in Germany, and the pasta producer Seitz has benefitted from the energy savings since late 2010. When altering process parameters which depend on pasta shape, raw material specification and the specific recipe used, heating-energy savings even beyond 40 percent, and cooling energy savings by more than 20 percent are realized.