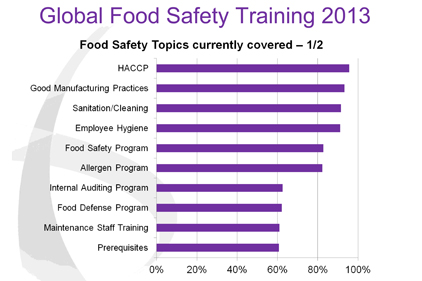 A new survey on global food safety practices allows food manufacturers and processors to benchmark their performance against competitors and identify areas for improvement. With only 66 percent of companies saying they are satisfied or very satisfied with the quality of food safety training, room for improvement clearly exists. In particular, the study found lack of employee understanding and incomplete training records were the largest barriers to effective food safety training.
Campden BRI and Alchemy Systems, in cooperation with the Safe Quality Food Institute (SQF) and the British Retail Consortium (BRC), sent survey forms to 25,000 food manufacturing and processing sites worldwide.
Companies were distributed fairly evenly according to size, with 24 percent of respondents representing companies of between 100-250 full-time employees. Respondents worked in areas of food and beverage processing including cereal and bakery; processed meats, fish and poultry; fresh meats, fish and poultry; beverages; dairy; processed fruit and vegetables; fruit and vegetables; packaging; and sugar and confectionery. North American companies represented 65 percent of respondents, while Europe accounted for 22 percent.
Seven out of 10 manufacturers said responsibility for food safety training resides with quality control/assurance departments, with 10 percent and 9 percent answering technical and human resources, respectively.

While roughly two-thirds of respondents indicated they are satisfied or very satisfied with the quality of their food safety training, a slightly smaller number was equally satisfied with the quantity of that training. That level of satisfaction was backed up by the survey: Most employees received between four and eight hours of food safety training per year, and 80 percent received 15 hours or less. Results for management and supervisors were marginally better, with 80 percent receiving 20 hours of training or less per year.
The most common forms of training included, in descending order: on the job; reading and understanding rules; refreshers; and classroom training with an instructor. Least common training types included, in ascending frequency of use: collaborative/social media training; just-in-time training; audience interactive technology; and continuing professional development.
HACCP was covered in more than 90 percent of food safety training sessions, followed closely by good manufacturing practices, sanitation/cleaning and employee hygiene. Training on food safety programs and allergen programs were also covered in over 80 percent of training sessions, while internal auditing programs, food defense programs, maintenance staff training and prerequisites, food quality programs and corrective action procedures were included in only about 60 percent of training.
Around 50 percent of food safety training included validation/verification training, and only approximately 40 percent included risk assessment, supplier audit/quality assurance, root cause analyses, GFSI program overview or product sampling protocols.
Around 90 percent of manufacturers reported internal audits to review food safety training practices and records, followed closely by GFSI-type audits. Customer audits and regulatory audits were each reported just over 60 percent of the time.
The most frequent deficiency found in the survey was a lack of employee understanding of food safety training, noted in around 25 percent of responses. Incomplete training records were another common issue, along with refreshers being overdue, insufficient training of visitors/subcontractors, lack of training records, training records not being verified and incomplete documentation for a training program.
The results suggest employers will see benefits—including better audit results and fewer recall incidents—by improving training as well as the recordkeeping associated with that training.
To view and download a .pdf of the report, click here.