Manufacturing News
Case Studies & Field Reports
Field Reports
Conveying system helps quadruple output for chip maker
Production no longer has to be halted when diverting product—just one of the many examples of improved efficiency.
When Michigan-based El Matador was established in 1976, its corn tortilla chips were made using an authentic Mexican process that had been passed down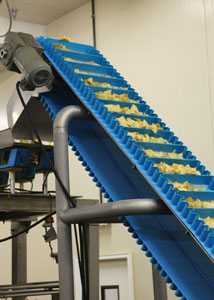 Because of their ease of disassembly for cleaning, the W.O.W. conveyors installed at El Matador reduce cleaning time by 20 percent and increase production efficiencies by 10 percent. Source: Walker Custom Sheet Metal.
through generations: Fresh-cooked corn was ground into masa using Mexican lava stones before further processing and seasoning took place. While the process hasn't changed in more than 35 years, production of El Matador's high-quality chips has skyrocketed since 2007, when the company was purchased by Garden Fresh Gourmet.
The purchase added 16 private label SKUs to El Matador's existing eight, and consumer demand for its natural, authentic-tasting chips rose steadily. During a five-year period, El Matador was challenged to quadruple its output to meet demand. Other tortilla chip manufacturers use corn flour to maintain costs at high volumes, but El Matador opted to keep this ingredient out of its time-tested recipe and to instead invest in more efficient processing equipment.
"We know our process takes longer when compared with new technologies in tortilla chip making," says Mike McClellan, director of operations. "But our quality is better, and you can taste it in the product. Fortunately, our new parent company has the same commitment to quality ingredients and handmade batches. Price-wise, we still need to be competitive though, so we seek ways to increase efficiencies without sacrificing our products' integrity."
Recent upgrades to the manufacturing facility have included tumblers, a fryer, coders, a toaster oven and corn cooking tubs. But the most significant efficiencies have come from the installation of a new conveyor system by Walker Custom Sheet Metal, which manufactures the W.O.W. (Walker Original Washdown) conveyor. The conveyor features corrosion-resistant, thermoplastic bearings with stainless steel bearing inserts.
The custom design of the W.O.W. conveyor is sanitary and tool-less, saving production time and costs. It took just four weeks from design to delivery for the eight conveyors to be installed at El Matador.
With the new conveyors, production no longer has to be halted when diverting product, eliminating one area of downtime. In fact, Bill Stanley, El Matador's maintenance manager, estimates downtime has decreased by 25-30 percent. Sanitation downtime has also improved, and because of the conveyors' tool-less design, the sanitation team performs 100 percent of the conveyors' disassembly and reassembly without mechanical staff assistance. Disassembly is more efficient, taking less than 10 minutes compared to 30 minutes for previous conveyors.
"The new conveyors are essentially maintenance-free," says Bill Mourer, sanitation manager, who has seen cleaning time reduced by 20 percent and an overall reduction in food safety risk. "The open, cantilever style makes taking the belts off and reinstalling a lot easier. With the unique bearings, we are able to clean and sanitize areas around the bearings and pulley shafts that we could never clean before. Preset tensioners mean no more wrenches and no tracking issues. The tubular design of the stainless steel frames makes cleaning easier, and the large casters make moving the conveyors to a wash area simpler."v
For more information:
Jim Monaweck, 616-735-3770,
monaweckj@walkercustomsheetmetal.com


I want to hear from you. Tell me how we can improve.