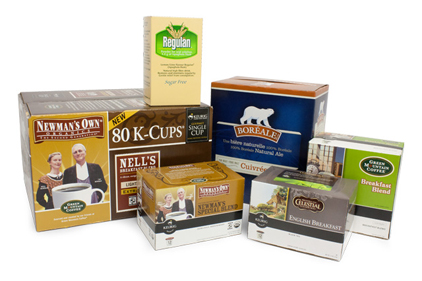 The vast and varied amount of information available at one's fingertips via the Internet and social media outlets has made today's consumer more educated and opinionated than ever. That means the average shopper is much more aware of what information consumer packaged goods (CPG) manufacturers are legally required to display, such as ingredient or nutritional data mandated by the Nutrition Labeling and Education Act and the Federal Food, Drug and Cosmetic Act.
In addition, many of today's socially conscious consumers have taken strong positions on issues including environmental stewardship and the implications of fair trade practices. Others actively seek out locally produced and organic goods or products that fit their dietary restrictions. These consumers want to know brands they purchase meet their needs and actively look for this information on packaging.
According to Lisa Pruett, senior vice president, sales for PaperWorks Packaging Group, package design and development require a balance between aesthetics and the supply of necessary information. With intense competition for shelf space and consumer attention, Pruett says, consumer packaged goods manufacturers have only seconds to attract consumers while also providing them with the information they seek.
Recent advances in printing techniques are driving a trend toward multi-sensory packaging, in which graphic effects appealing to more than one of the senses are used to enhance the presence of a product, Pruett says. For example, striking graphic effects such as holographic images or metallic finishes are visually engaging, while various high-end tactile finishes encourage consumers to use their sense of touch; "scratch n' sniff" pressure-sensitive labels involve the sense of smell.
State-of-the-art printing now allows for an embossed coating to be applied in-process to create holographic effects with or without the use of metallic inks. Pruett calls this process cost-effective and sustainable and says, "it eliminates the need for holographic MetPET as well as a secondary application process."
Other effects grab shoppers' attention using the latest in multi-sensory packaging technology. One in-line press application for microencapsulation of scents allows for a variety of different scents and can be customized for nearly any application without necessitating a secondary process. Engaging the tactile senses, press-applied UV coating technology can be used to create a premium look and velvety feel to packaging. This enhancement can be incorporated onto other graphic designs to highlight consumer messaging and images on the package.
While not text-based, microencapsulation, or "scratch n' sniff" technology, has the ability to provide information on a different level than print. Several major snack food and beverage brands aimed at children provide microencapsulation to communicate product taste or flavor. In addition, microencapsulation and tactile effects can provide consumers with a more interactive shopping experience and help draw attention to additional information provided on product packaging. After all, Pruett says, in order to read the label, the customer has to pick up the package first.  
Working with the right packaging supplier can help CPGs find the correct mix of form and function through a combination of design expertise and technological capabilities. It is important to collaborate from the earliest packaging stages with a supplier with the design and printing know-how to develop packaging that draws consumer attention while also providing a backdrop for vital product information.
However, to be truly effective, it is vital to identify a supply partner with the technological capabilities to apply multi-sensory packaging enhancements. Recent advances in printing and packaging technology combine form and function with striking effects that highlight accurate information. In some cases, these new printing technologies also bring with them sustainability benefits, as well as manufacturing efficiencies.