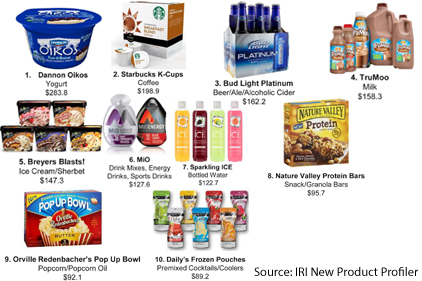 IRI Worldwide announced its 2012 New Product Pacesetters, the 200 top-selling new consumer packaged goods product launches of the year. Products on the list generated an average of $39.5 million in first-year revenues. IRI says only 11 percent of new product launches met the stringent sales standards required to make the list.
Average one-year food and beverage sales for the top-100 food and beverage brands were $43.4 million, with new brands addressing longstanding wellness, convenience and indulgence trends. IRI says the most successful brands provided "new options that serve cross-occasion eating behaviors, support proactive wellness efforts and satisfy desires for intelligent indulgence."
IRI's list of the top 10 new food and beverage products put Dannon Oikos yogurt in the top spot with annual sales of $283.8 million; Starbucks K-Cups single-serve coffee pods claimed second with $198.9 million in sales. In third place was Bud Light Platinum with $162.2 million, narrowly edging fourth-place TruMoo's $158.3 million.
Breyer's Blasts! recorded sales of $147.3 million, good for fifth place. MiO water enhancer led off the second half of the top 10 with sales of $127.6 million, just ahead of Sparking ICE's $122.7 million. In eighth place was Nature Valley Protein Bars at $95.7 million. Orville Redenbacher's Pop Up Bowl snagged ninth place with $92.1 million in sales, and Daily's Frozen Pouches' $89.2 was good for tenth place.
To download IRI's New Product Pacesetters report, click here.