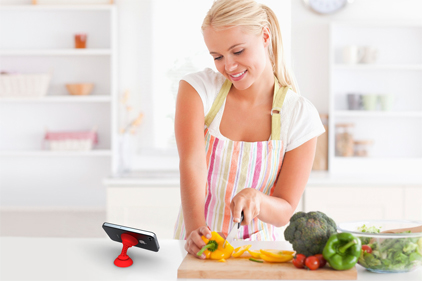 Millenial moms use mobile tech for recipe sharing, preparing shopping lists and more. Source: PRWeb.com
According to a survey of 1,500 women, millennial moms are using mobile devices smart phones and tablets in the meal planning, shopping and cooking cycle at an unprecedented rate.
Data shows moms ages 18 to 34 are 44 percent more likely to own a smart phone, and 51 percent of them use mobile devices to find grocery promotions and discounts. An additional 20 percent search for coupons, and almost a third of millennial moms use smart devices for making grocery lists.
Almost 75 percent of millennial moms who own a tablet use it while cooking, and nearly half of these tablet users have shared a recipe on the device via social media. Moms with children at home are especially likely to use social media in the kitchen, with 71 percent following brand and store accounts for specials and sale information. That's compared to 57 percent of moms without kids at home.
However, in-store mobile use has a way to go to catch up. Only 20 percent of millennials report using their smart phone to search for specials while shopping, while a much higher percentage across all age groups finds coupons in more traditional places like newspapers, the Internet, direct mail and store loyalty programs.