Arla Foods, the largest supplier of fresh milk and cream in the United Kingdom, is taking its product out of one-liter gable top cartons and putting it into one-liter PET bottles in a move to improve consumer ability to use and reclose the package tightly. In addition, Arla, which processes over 2.2 billion liters of fresh milk each year across six UK-based dairies and two creameries, will expand into the food-to-go category for the first time with the launch of a new 500ml milk bottle.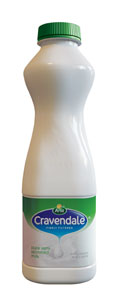 The DoubleSeal DS 33/12 closure from Bericap provides taste protection for Arla Foods' fresh milk and cream products that have moved from gable top cartons into PET bottles. Source:  Bericap Holding GmbH.
 To achieve high resealing of the bottle which minimizes and prevents off-taste in the milk, Arla selected the DoubleSeal DS 33/12 closure manufactured by Bericap UK, owned by Bericap Holding GmbH, Germany. The closure is equipped with a folded, tamper-evidence band for safe breaking and also features a sealing lip with a specific design for tight sealing to ensure product integrity. The closure can be well decontaminated using all standard decontamination methods known in aseptic filling. The closure is currently used on PET bottles, but after adaption, it is possible to use the closure on HDPE bottles. 
For more information:
Martina Mussel, Bericap Holding GmbH, +49 6139 29 02 120, martina.mussel@bericap.com