New Products
Technology Sourcebook
Flexible chain conveyor
The Dorner 2200 SmartFlex flexible chain conveyor features an aluminum single-piece frame, load capacity up to 600 lb., speeds up to 250 ft./min. and 2.6-, 4.1- and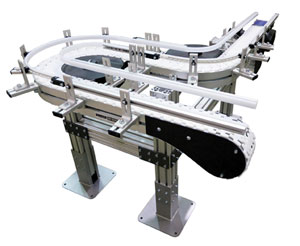 5.9-in. widths. Wheel and plain bend options allow the conveyor to navigate tight corners. It comes with multiple chain types including low friction, friction insert, conductive, cleated, roller top and magnet top. The conveyor can be engineered to customer specifications.
Dorner Mfg. Corp.; 800-397-8664; www.dornerconveyors.com


I want to hear from you. Tell me how we can improve.