New Products
Technology Sourcebook
Flexible chain conveyor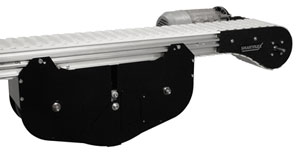 The Dorner 2200 Series SmartFlex flexible chain conveyor comes with a weighted take-up module with an adjustable slot that compensates to remove sag in the belt; the module can be positioned in a variety of locations along the conveyor. The conveyor features an aluminum single-piece frame, speeds up to 250 ft./min. and a maximum load capacity of 600 lb. A range of product transfer options for end and side transfers and chain types, including low friction, friction insert, conductive, cleated, roller top and magnet top, are available.
Dorner Mfg. Corp.; 800-397-8664; www.dornerconveyors.com


I want to hear from you. Tell me how we can improve.