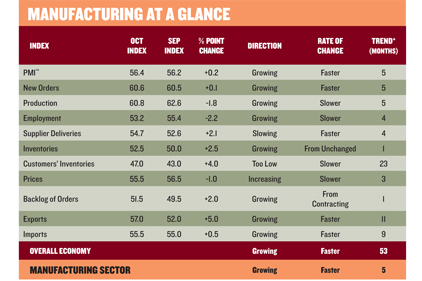 Source: Manufacturing ISM
Economic activity in the manufacturing sector grew for the fifth straight month in October, according to Manufacturing ISM's Report on Business. The purchasing managers index (PMI) came in at 56.4 percent, an increase of .2 percent from September. The PMI has increased each month since June, and October's reading reflects the highest PMI in 2013. A PMI above 42.2 percent over a period of time indicates the economy is expanding, meaning October's PMI indicates growth for the 53rd consecutive month.
The New Orders Index increased by .1 percent in October to 60.6 percent, while the Production Index dropped by 1.8 percent to 60.8 percent. Imports increased by .5 percent, while exports jumped a full five points to 57 percent.
Food, beverage and tobacco products reported the second-strongest month among the 14 of 18 manufacturing industries that grew in October. Food, beverage and tobacco products also reported an increase in raw material prices and growth in employment.