New Products
Technology Sourcebook
Dual-arm robots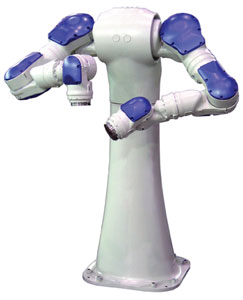 Able to perform a variety of assembly, handling, machine tending and part transfer applications, Yaskawa Motoman Slim dual-arm robots have 15 axes of motion (7 axes per arm, plus a single axis for base rotation). Both arms can work together on 1 task to double the payload or handle heavy, unwieldy parts, trays or pallets. The motor, encoder, reducer and brake for each robot axis are combined in 1 package. The robots are available with a DX100 or FS100 controller.
Motoman Robotics Division; 937-847-6200; www.motoman.com


I want to hear from you. Tell me how we can improve.