New Products
Technology Sourcebook
Tunnel freezer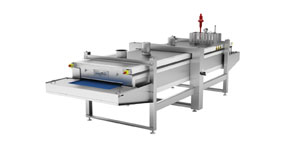 A cryogenic freezing system, the Air Products Freshline QS tunnel freezer can be integrated into an existing or new production line to freeze or cool a variety of foods such as meat, poultry, seafood, fruits, vegetables, pasta, dairy products, baked goods and prepared meals. The freezer uses the extremely cold temperature of liquid nitrogen to freeze product within minutes; the fast freeze results in the formation of smaller ice crystals that are less damaging to a product's cellular structure and moisture content.
Air Products; 800-654-4567; www.airproducts.com


I want to hear from you. Tell me how we can improve.