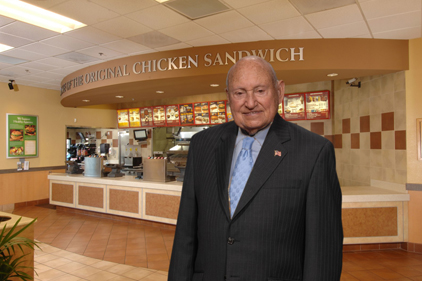 Chick-fil-A restaurant chain founder Truett Cathy died at home Monday morning at the age of 93 surrounded by family.
Growing up in Georgia, Cathy opened a diner in a suburb of Atlanta in 1946. He developed this business, and his signature chicken sandwich, into the restaurant chain known throughout the US today.
Since founding the company in 1967, Chick-fil-A has expanded to include more than 1,800 restaurants in 40 US states. In 2013, the company produced sales of $5 billion. Chick-fil-A is recognized as pioneering in-mall fast food and was labeled one of America's "Top 20 Most Admired Brands" by The Harris Poll and "Top Fast Food Chicken Chain" by Consumer Reports this year.
As a Southern Baptist, Cathy incorporated his faith into the company by instituting a closed-on-Sunday policy. The company said it will remain privately owned and continue to stay closed on Sundays.
Cathy's oldest son Dan became president of the company in 2001 and remains its chairman and CEO.