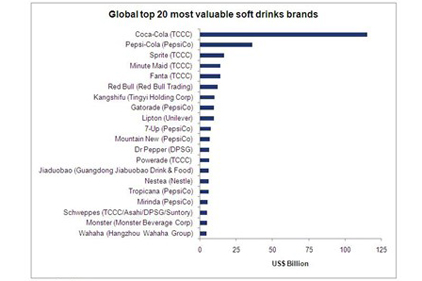 The global soft drink market increased by less than 2 percent in 2013 to $937 billion, but Chinese brands and Red Bull are on the rise, according to the latest data and analysis from market researcher Canadean.
Coca-Cola dominated the first spot on Canadean's top 20 soft drink brands. Pepsi-Cola, Sprite, Minute Maid and Fanta rounded out the top five.
Red Bull sprung into the sixth spot with an average growth in value of 7 percent since 2008 to reach $12 billion in 2013, according to Canadean.
The Chinese brands of Kangshifu, Jiaduobao and Wahaha all made the top 20 list. Chinese Tingyi Holding Corp, which holds the popular Kangshifu Milk Tea showed impressive growth, increasing by an annual average of 19 percent since 2008, higher than the global average of 4 percent, according to Canadean.