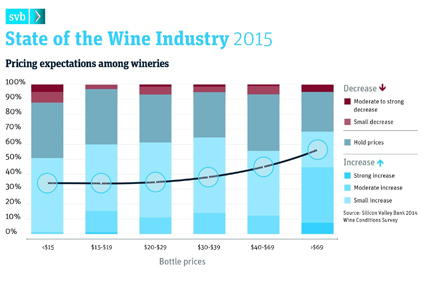 A stronger US economy in 2015 will yield and increase in demand for wine, according to the annual State of the Wine Industry Report from Silicon Valley Bank.
"We are especially positive on the year ahead," said Rob McMillan, founder of Silicon Valley Bank's Wine Division and author of the report. "We expect the fine wine business will experience accelerating growth, achieving 14–18 percent sales growth in 2015. At the same time, the cellars are full with several consecutive years of very good vintages."
Based on a survey of nearly 600 West Coast wineries, in-house expertise and ongoing research, the report covers trends and addresses current issues facing the US wine industry.
Key findings and predictions include:
Supply: Analysts expect to see the third consecutive harvest of heavy yield and great quality across most appellations.
Pricing: While the large supply of wines in the cellars should normally indicate continued depressed pricing, researchers believe 2015 will be a year of both volume and price increases in the fine wine segment, driven by an improving economy and higher demand.
Demand: Wines priced below $7 a bottle performed poorly both on and off premise in 2014. This poor performance is likely to continue in 2015.
Planting: Grape planting is shifting regionally. Oregon and Washington are showing strong growth in planting on a percentage basis and analysts expect that this will continue for the foreseeable future given favorable quality and price dynamics relative to the fine wine growing regions in California.
 The full report can be read here.