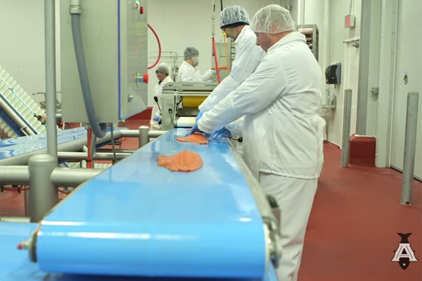 The Acme Smoked Fish Corporation—manufacturer of Acme, Blue Hill Bay, Ruby Bay and Great American smoked and cured seafood—has opened the doors to its new 100,000-sq.-ft. facility in Wilmington, North Carolina, the largest cold smoked salmon facility in the US.
The state-of-the-art facility was built to produce 10 million pounds of cold smoked salmon per year with a focus on the highest quality and food safety standards in the industry. The new facility is strategically located to complement the company's existing locations in Brooklyn, New York and Pompano Beach, Florida.
"As the latest advancement in our plan for sustained, long term growth, this expansion gives us an opportunity to offer a wide variety of high quality smoked seafood products to customers around the world," said Adam Caslow, managing partner of Acme. "We're thrilled to utilize the skills and traditions honed in Brooklyn – the epicenter of smoked fish – and expand upon them to develop the world's most advanced cold smoked fish facility."
 The North Carolina facility utilizes the most modern manufacturing technologies available while continuing to meet and exceed current Global Food Safety Initiative (GFSI) and Food Safety Modernization Act (FSMA) requirements. To emphasize food safety, Acme built custom parts and equipment for hygienic design and ease of cleaning within the new facility.