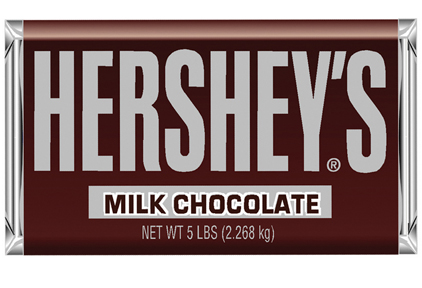 Boasting a commitment to consumer-centric innovations, chocolate manufacturer The Hershey Company will debut a new line of products and innovations this week at the National Confectioners Association's annual Sweets & Snacks Expo in Chicago.
The company will feature technology innovation, a shift to simple ingredients and products that expand Hershey's portfolio across the snacking segment.
"Consumers are at the heart of all we do at Hershey and we are focused on driving innovation that anticipates changing consumer preferences," said Michele Buck, president North America, The Hershey Company.
Beginning with innovation, Hershey has partnered with 3D Systems, the industry's leading 3-D printing company, to introduce 3-D printed chocolate. A finalist in Engadget's "Best of the Consumer Electronics Show" awards, technology can make intricate designs and custom shapes, such as faces, animals, buildings and logos that were previously impossible with traditional molding. The printer will be part of a permanent exhibit at Hershey's Chocolate World Attraction beginning later this year.
In order to be more open with consumers, Hershey said it is committed to making products utilizing simpler and familiar ingredients.
"68 percent of global consumers want to recognize all of the ingredients on food labels and 40 percent want food made with as few ingredients as possible," the company said.
New products with these ingredients include Brookside Fruit & Nut Bars. These snack bars will feature no high fructose corn syrup, artificial flavors or colors and be gluten-free. The company said it also plans to transition some iconic chocolate products, including Hershey's Kisses Milk Chocolates and Hershey's Milk Chocolate Bars, to simpler ingredients by year end.
In addition, Hershey's new products not only aim to meet consumer preferences for simple ingredients, but their desire for more snacking options.
 New snacking options to debut at the show include Brookside Fruit & Nut Bars, KRAVE natural jerky, and Snack Bites are a mix of nuts and Hershey's confection brands.