The family-owned company Ulmer Schokoladen has been producing chocolate products for both retail and industrial manufacturing for more than 150 years. Together with Bosch Packaging Technology, the company has now modernized its 20 year-old Bag-in-Box Line including case packer in line with the latest technical standards.
The goal was to create chocolate packaging that's not only attractive, but also flexible, reliable and safe.
As producer of a successful own brand and supplier for various retail brands, Ulmer Schokoladen requires flexible production conditions.
Due to the high variety of products, each one must be processed and packaged according to chocolate quality, size, amount and form.
In the 1960s, the company with headquarters in Wilhelmshaven, Germany, specialized in manufacturing small-format chocolate decorations for industrial processing. Today Ulmer delivers its products to ice cream and cereal producers, as well as wholesale bakeries in more than 25 countries all over the globe. Customers can choose from a range of more than 3,000 different chocolate variations.
Creating packing for chocolate décor
Delicate chocolate décor, such as flakes, drops or the classic "Ulmer Borke" require a packaging solution that processes the sensitive products very gently. For many years, Ulmer has been working with a Bag-in-Box Line including a case packer from Bosch to package its décor.
Amongst others, the company fills 25 to 150 grams of chocolate décor into side-gusseted or flat bags, packages these in folding cartons and then into a tray with hood. After more than 20 years of running time and approximately 200 million packages, the time had come to exchange some machines of the line.
"The lifecycle of our existing line was coming to an end. Therefore we decided to modernize it in due time," says Justus Ulmer, junior managing director at Ulmer Schokoladen. In order to deliver the chocolate to customers directly after production, Ulmer relies on just-in-time production without long storage times. "Our fast and flexible production requires high-quality and reliable equipment with short changeover times."
To keep downtime during the exchange as low as possible, Ulmer decided to start with the cartoning machine and to renew the entire production line step by step.
"Twenty years ago, our technicians agreed that they wanted to use Bosch machines," senior managing director Michael Ulmer recalls. "This investment has paid off in retrospect. The predecessor did a good job for many years. So we decided to work with Bosch again."
The existing Bosch machine was replaced by a state-of-the-art horizontal cartoning machine CUK 2060 with two bag infeeds.
Complete line from a single source
Just like the previous machine, the continuous cartoning machine CUK with mechanical drive enables an especially safe packaging infeed and a safe transportation of the folding cartons. In addition, the CUK 2060 features a cascade infeed and a GUK leaflet folding unit. Thanks to Bosch's comprehensive line competence, a checkweigher KWE 4000 with flap control and a downstream Elematic wrap-around case packer were also added to the line.
The challenge consisted in integrating the two existing Bosch SVB vertical baggers into the line while optimally using the given space.
To connect all machines with the matching interfaces, the experts from Bosch in Waiblingen and Remshalden designed a uniform line concept. In close exchange with the colleagues from Ulmer, numerous suggestions for improvement were incorporated.
"We work with fresh products that need to be processed quickly. Since we have more and more small batches, changeovers must happen fast and without complications to avoid downtime," says Justus Ulmer. "Subsequently we required quickly reproducible format settings."
Flexible packaging offers options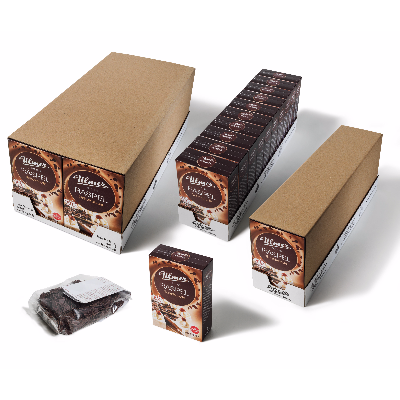 The new line provides Ulmer with the highest possible flexibility. The manufacturer can either fill two different products in flat bags or the same product in two bags simultaneously on the two vertical baggers.
The bags are then transported to the cascade infeed, which transfers them with an accelerator belt into the product chain of the cartoning machine while opening the cascade flaps at the right time. The folding cartons can be filled with one or two bags, as well as a leaflet with product descriptions or recipes on the CUK 2060. Ulmer prefers leaflets in C-form, which are well-known from the pharmaceutical industry. Thanks to its experience from this industry, Bosch has the required expertise and could easily adapt the leaflet infeed for Ulmer.
The pre-assembled folding cartons, which are already pre-glued on the longitudinal seam, are taken from a magazine by the CUK 2060, raised, filled, and sealed with hot melt on both top and bottom. The electronic checkweigher KWE verifies the filling weight precisely down to 50 milligrams. It also detects trend curves in case of deviations, which are shown on the HMI.
All in all, the machine packages up to 160 folding cartons per minute or 80 in case of a combination of two different bags per carton.
At the end of the line, the packaged boxes are grouped by the Elematic wrap-around case packer before being packaged in a shelf-ready tray with hood. This way, the Bag-in-Box Line unites primary, secondary and tertiary packaging to a seamless process.
Cooperation to continue
"Whenever new challenges arose, Bosch was always a reliable partner," says Michael Ulmer. "When we took up operations on the line 20 years ago, our thin chocolate flakes at first melted at the welding seam when they were packaged into side-gusseted bags. Together, we developed a solution: a double-walled tube with water instead of air cooling quickly did the trick."
Today Ulmer still benefits from the know-how and experience of that time. And the joint work on the Bag-in-Box Line continues. The next step will be to exchange the SVB vertical baggers. Backed by their long joint history, the Bosch experts know exactly what counts to process Ulmer's sensitive chocolate products. Hence, the family-owned company is well prepared to pack 1,000 different products with the Bosch line per year at high quality.
For more information: Rainer Andreas Gund, Area Sales Manager, Bosch Packaging Technology, Email: Andreas.Gund@bosch.com, Phone: +49 711 811-57634, www.boschpackaging.com.