There is never a "one-size-fits-all" solution when a food or beverage processor seeks to improve throughput. In some cases, equipment in a line is fully capable, but overall line performance isn't up to expectations. There are numerous periods of downtime and low OEE scores, and bottlenecks occur between machines. In other cases, most of the equipment on the line is 20 or more years old, and while it could be updated with new controllers, the hardware is too far gone to replace, provided you can even find the parts. So, maybe it's time to scrap the line altogether and start over.
The path you choose will take much due diligence and may require the help of an outside consultant or system integrator to make the determination whether to fix or replace it completely. If you're lucky, you may simply have a communication problem between pieces of equipment—the all-too-familiar "islands of automation"—or shop floor and ERP systems. In this article, we take a look at some real-world examples from fix or integrate to start over completely.
---
Article Index:
---

Getting hold of information leads to throughput improvements
Bush's Baked Beans started as a family business in 1908, and Bush Brothers and Company's products finally became "table ready" in 1952. With leaps and bounds in growth, the Tennessee-based canning company had kept records on paper, but with more than 55 million pounds of beans produced yearly from several plants, keeping track of everything—especially downtime—was tedious.
At first, the company tried its hand at creating its own tracking software solution, recognizing there were advantages to getting away from paper in tracking production, such as logging downtime. But it didn't fully meet all the needs of the company.
"Like any homegrown solution, it was too cumbersome," says Tony Peterson, Bush Brothers operation manager. "Our IT people assured us that there were vendors out there who did nothing but develop such solutions. So, we went to the main suppliers of manufacturing operations management software."
The company searched for a solution that would help plant staff make better decisions, leading to improved performance. Also, the tracking tool had to mesh with Bush's company culture, as well as being flexible.
"We wanted to be able to take the program out of the box and configure it to fit our needs," says Peterson.
The company eventually chose Parsec Automation, a partner member of the Control System Integrators Association (CSIA). Bush found that some of the other software suppliers had a rigid attitude about their software: that it worked in a particular way, and that was that.
"That was not the case with Parsec's TrakSYS," says Peterson. "Our operators had a lot of input into developing what the final solution looked like. Actually, we are still moving forward today, getting a little deeper and making our operations even more efficient. You could almost describe it as a living program."
The goal of implementing TrakSYS was to improve the productivity of the manufacturing systems. Using real-time information related to equipment downtime, TrakSYS found the root causes, frequencies and conditions that led to downtime. Bush Brothers tasked the software with a plant-wide implementation to streamline communication from the plant floor to upper management.
Was it successful? In 2014, without any changes to the manufacturing equipment in its Augusta, GA operation, Bush Brothers produced 2.2 million additional cases of beans. During the same period, the processor was able to eliminate 27 shifts using TrakSYS for real-time operations management. In 2014, the plant realized an annual savings $395,000, a planned vs. actual production of better than 97.9 percent and greater than 85 percent production efficiency with better than 96.2 percent final product quality, yielding an on-time order fulfillment greater than 99.7 percent. ROI was under a year.
Bush Brothers has seen several benefits with the new system. The software provides significant improvement in communication, resulting in a clear understanding of issues and their root causes. The system automatically populates existing electronic forms, eliminating three years of stored paper data. It replaced manual, paper-based sensory data collection with electronic forms, complete with data validation and extensive genealogy, with audit trails for regulatory and food safety compliance. Integration with an existing plant historian made it possible to have a common web portal for viewing information and reports related to process variables. In addition, the software uses electronic and interactive journal entries, eliminating manual log books, and Bush Brothers has used the new system to qualify new equipment performance against specifications.

When suppliers fail, make it yourself
Queen City Candy, founded in 1983 and based in Greendale, IN, was primarily a buyer, packager and reseller of a wide range of candies—until the company ran into supply chain issues. Management decided they could not withstand major delays in receiving products or short-shipping to customers, so the company set out to make its own products, including gummies and jellies.
Having never made jellies or gummies before, Vince Klee, Queen City Candy founder and president, knew these candies had to be right the first time out.
"A manufacturer can sell a confectionery product once if it looks good, but they won't sell it twice if it doesn't taste good," says Klee.
To solve the problem, Queen City added 10,500 sq. ft. to its operation to house a state-of-the-art confectionery kitchen that would accommodate a new production line—and Klee had to hire new people. The line had to meet the following challenges:
Consistently deliver high-quality, fresh and safe product
Create a repeatable process
Introduce systems and processes that are understandable to personnel on the floor
Install systems with the capacity to keep hoppers full of product and canisters full of flavors and coloring, plus deliver product consistently to meet demand.
Queen City purchased a complete Bosch confectionery production line integrated with Siemens PLC and HMI technologies. The new technologies, coupled with a year-long process of obtaining SQF Level 2 certification, meant that Queen City finally had control over its gummy and jelly product lines. Components in the new line include both confectionery kitchen equipment and a starch molding machine (mogul). The line also includes a curing room with supporting equipment.
"Choosing Bosch as a single provider for all systems was attractive to Queen City as a one-stop source rather than two manufacturers for mission-critical equipment and process controllers," says Anthony Habib, global consultant and head process engineer for the Queen City integration. "Bosch's use of the Siemens technology platform, with its global acceptance and simplicity, was a defining factor. And we liked the attentiveness Bosch showed in response to our RFP by answering our questions and fully exploring our needs."
The Siemens technology includes three SIMATIC ET 200S PLCs, which are used in the kitchen configuration. The highly modular I/O systems are precisely matched to Queen City's automation tasks.
"Once we had programmers and technicians on site during implementation, they [the PLCs] showed more flexibility than we expected for changes in programming to better serve Queen City's needs," says Habib.
Siemens technology made it easy to program and integrate adjustments and have different systems talk to one another, adds Habib.
Another key function for the manufacturing startup was Queen City's development of a custom ERP system to audit product planning, inventory management, shipping day and time of production. The ERP also monitors raw materials consumed by lot number against manufacturing orders, as well as other critical production, operating and performance functions.
Queen City Candy now produces about 60 percent of what it sells, and it's growing.
"We're making jellies, gummies and jujus, each with different processes and curing cycles," says Klee. "The versatility of our equipment gives us the ability to make a wide range of products with minimal dollars spent towards tooling."
Initially, the system made fewer than 10 products, but the company has continued to add new formulas and products—and the system is robust enough to let the candy company keep on growing its product lines.

MES gets systems talking together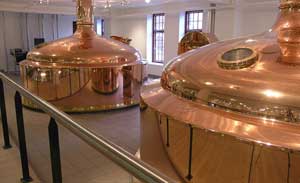 Carlsberg Brewery, a Danish company, has several operations throughout Europe. Since 2008, the company has been systematically improving its supply chain operations across 17 breweries. Along the way, it discovered that it had more-than-abundant data from each of the breweries and from several different machine types, making it difficult to make any comparisons in efficiency from one location to the next.
While Carlsberg systematically installed SAP ERP templates across all its facilities, obtaining useful information from the process and packaging systems proved difficult. To solve the problem, the company chose the Siemens Simatic IT MES platform, which uses Microsoft technologies. Implemented and further developed by ATS International in cooperation with Siemens, the MES platform is repeatable, easily upgradable, extendable and supportable throughout Carlsberg's sites.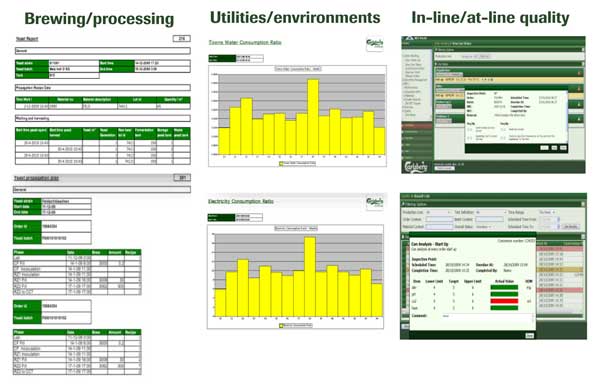 The MES installed at Carlsberg Breweries by ATS International provides several reports, including brewing and processing, (e.g., yeast), utilities and environmental, and in-line and at-line quality reports. The system also provides several filling and packaging reports, including production performance.
Source: ATS International.
Three different working groups within Carlsberg were responsible for setting the initial requirements for the MES. These included filling and packaging, brewing and processing and maintenance. All the breweries have a clear separation between the filling/packaging and brewing/processing operations. Workshops were held with the three groups, and functional design and technical design specification documents were developed. This led to the decision to include maintenance requirements in the SAP application and the rest of the MES applications in Simatic IT. It was also decided that ATS would lead the implementation with tech support from Siemens.
The implementation of the MES site by site has improved communications between process and the enterprise business level. It's also improved day-to-day operations and production at the breweries. Gross margins have increased by 1.2 percent due to the real-time, accurate data provided by the filling and packaging lines on the most profitable packaging type. Sales have increased by 1.5 percent due to better response to demand, especially demand changes brought about by marketing campaigns, weather changes and sports campaigns. The ratio of own downtime (downtime caused by a machine/equipment vs. external causes) has been reduced from 28 to 13 percent. In addition, can material loss has been reduced from 1.6 to 0.72 percent, and the utilization of canning lines has increased by 18 percent.

Gargantuan-scale milk dryer
When its number-one milk dryer located in Darfield, New Zealand could no longer keep up with demand, Fonterra decided to build a brand-new dryer. The new dryer, which was, at the time, said to be the largest milk dryer in the world, handles a daily input of 4.4 million liters of milk (1.16 million gallons) and produces 30 metric tonnes (33 US tons) of milk powder per hour.
This greenfield project was Fonterra's largest to date. Schneider Electric provided all the controls, which consisted of SCADA, drives, motor control, medium- and low-voltage distribution, lighting controls, C-Bus, UPS, wiring accessories, design consulting, project management and power quality. GEA provided the actual processing equipment for the drying application.
New Zealand-based Strong Electrical Ltd., Fonterra's electrical contractor of choice on the Darfield project, worked over 10 months to finish the project, which included the installation and commissioning of the electrical infrastructure and controls of the new dryer. The facility uses more than 174 miles of cable and has more than 20 PLC panels and 200 VFD drives. It took more than 37,000 man hours to complete the project.
"Fonterra is pushing the limits on scale, and pushing the limits on what's possible requires a lot of engineering and knowledge," says Glenn Sullivan, Fonterra group manager of electrical engineering.
He says Schneider Electric understood how to control and provide enough energy to the operations in a cost-effective and safe way in order to maintain the quality of the output.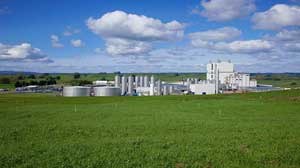 In 2016, Fonterra strategically built a second large dryer facility at a location 14 hours away in Lichfield. This milk powder spray dryer was also built by GEA and has the same throughput specifications as Darfield-2. The drying chamber weighs 200 tons and has a diameter of 18 meters.
At Lichfield, GEA experts developed several innovations to improve sustainability and energy efficiency, as well as reduce TCO to Fonterra. Also, the Lichfield plant requires very little process water, as the evaporator condensate is filtered and reused during processing, decreasing the demand for groundwater.

Candy maker installs auto-coding system, adds OEE functionality
Kinnerton Confectionery was the first candy company in the UK to offer chocolate treats depicting children's favorite characters. Since the company also makes a wide variety of treats for the holidays, it experiences a surge in orders and retailer demands.
To ensure all of its products have the correct packaging and labels, Kinnerton worked with OAL to set up an auto-coding system.
"OAL's Autocoding system had already been tested and proved very successful, so the decision to purchase was easy," says Mike Gee, Kinnerton head of engineering. "OAL's ability to offer 24/7 support and for the single system to offer paperless quality checks, OEE and traceability at a later date were key drivers in our purchasing decision."
OAL Autocoding was successfully installed across four of Kinnerton's packaging lines. Kinnerton's newly installed system works by scanning a 2-D barcode printed on every product to check and verify the date code and packaging are correct. If a mismatch error occurs, the line stops, and the problem is investigated. Each line has a touchscreen terminal that links and controls scanners (ICE and Markem SDS thermal transfer labelers), checkweighers and a master database of products.
Payback has been shortened through the use of OAL's Factory Performance software module, which provides the team with production information on improvement areas. When a line stop occurs, operators must record a reason code on the touchscreen terminal. The recorded data is highly accurate and can be used in real time, so actions can be taken if any issues occur. The automatic system replaces existing manual production logs, providing more accurate and reliable data, helping Kinnerton identify areas for improvement.
The data captured in real time is accurate and, thus, can quantify lost time and measure the efficiency of equipment to maximize production and operations. This allows Kinnerton to identify problems and address them, taking a proactive approach to downtime.

Build a new, specialized facility? Don't go it alone
Once Again Nut Butter (OANB), a high-quality organic nut butters producer, has developed a strategy to increase its capacity, reduce costs and improve the quality of production of its peanut butter operation in a multiple-phase expansion over 20 years. The first phase includes a new 40,000-sq.-ft. building, 3,500-pound-per-hour roaster and complementary blanchers, milling and bulk filling equipment with the flexibility to easily expand capacity and change the product mix.
The nut butter industry also had a serious food safety concern: peanut allergies. A must-have was isolating peanut processing from the almonds, cashews and sunflower seeds that the company uses to make other nut butters, eventually having separate manufacturing for each nut butter.
At first, OANB's team was executing projects themselves and experiencing challenges with coordination while responding to changes in a multi-phase improvement plan across various suppliers. OANB realized hiring an engineering firm to provide engineering and skilled trade services was the most efficient way of handling the installation.
Bob Gelser, president and general manager of OANB, wanted the new SI to be local, have all the required engineering and skilled trades under roof and be able to provide long-term support.
He selected Optimation, a CSIA certified member, and had it start with preliminary engineering, such as determining layouts and process flow, as well as size equipment for the building. A peanut butter process expert was hired to collaborate on the project and suggest the large equipment needed. Optimation filled in the gaps with supplementary equipment and utility requirements, such as compressed air systems and hot water.
"I recognized they [Optimation] had a lot of expertise," says Gelser. "There are a lot of transplanted ex-Kodak people that really know a lot about manufacturing, manufacturing processes and could do equipment installs and refurbishing. They fill a void, because it's as close to having that expertise under your roof as it can be without actually hiring people full time."
Optimation completed the detailed engineering, which was only 20 percent done at the end of the preliminary engineering project. Process engineers created a document, which included requirements for each part of the plant. The process design was integrated with the building design. To make sure the plant operators were informed throughout the process, Optimation held multiple meetings with high participation rates. The team also created an equipment list—roughly 400 purchased and fabricated items.
Optimation's skilled tradesmen fabricated all the metalwork, and journeymen millwrights and electricians installed the purchased and fabricated equipment and utilities. Optimation also provided construction management and controls for all the equipment, including startup and debug and continued maintenance, as well as controls support during product trials and ongoing maintenance.
As with any project, the project team had to adjust to surprises on the building side and with equipment that arrived without electrical disconnects and control panels. Some equipment came in with just wires, making it easy for the SI to put in any controls needed. And working with the peanut butter consultant led to a working knowledge of the peanut butter industry.
Since project completion, OANB has quadrupled its peanut butter manufacturing capability, plus it reduced costs via scale-up and reduced operator labor content. The plant can also accommodate any future growth, because Optimation's design provides for an expandable facility that can add a packaging line and double production capacity.